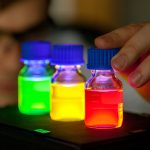 Quantum dot LEDs, QD-LEDs for short, combine the advantages of organic light-emitting diodes with the outstanding luminous properties of the quantum dots.
The emission spectra are very narrow band. As a result, the colors look extremely bright. In addition, the low cost manufacturing makes QD-LEDs very attractive for the display market.
So far, existing cadmium-based quantum dots are not future-proof, since the use of cadmium in display production is only possible to a very limited extent from 2020 on, according to the RoHS directive.
Nevertheless,  researchers see great potential for the display industry in QD technology. Compared to OLEDs, QD-LEDs not only have a larger color gamut, they are also brighter.
"With every improvement in QD materials, we are moving one step closer to mass-market QD-LED displays", says Dr. André Geßner, Head of Quantum Dot Development at the Fraunhofer IAP. "What others see as challenges are exciting questions for us that we want to solve with our research on cadmium-free quantum dots.
The team led by Dr. André Geßner succeeded in producing unique multi-shell quantum dots based on indium phosphide.
Integrated in QD-LED components, these cadmium-free quantum dots achieve a significantly higher luminance than cadmium-based systems.
Also, indium phosphide-based QD-LEDs almost match the performance of conventional QD-LEDs in other parameters.