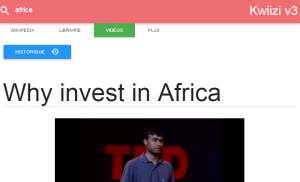 As part of the Kwiizi project a digital library of thousands of books has been created in PDF and EPUB format.
All this made possible by the Gutenberg Project that brings thousands of books ranging from literature to science.
There is also a library of videos of TED (Technology, Entertainment and Design) conferences.
The kwiizi project is based on a Raspberry Pi. It uses node.js which is a free JavaScript framework oriented network applications.
The Raspberry Pi is also used as a communication platform and even supports video calls.
Kwiizi writes:
"The challenge for us is to provide interesting and complex services to education with small servers like the size of a credit card."

"Today's technologies like HTML5 and NodeJS allow us to push the limits of server-side resource savings while still providing quality services client side. We intend to continue this philosophy as far as is possible."
The aim is to offer low cost computers which run standard browsers such as Google Chrome and Mozilla Firefox.