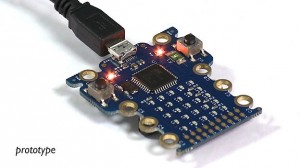 This is a million devices, says the BBC.
If this target is met the device could match the success of the Raspberry Pi educational computer.
The BBC module, dubbed Micro Bit, is still in development and is expected to be distributed nationwide from autumn 2015.
The Micro Bit will be a wearable device with an LED display which is designed to be an entry-level coding device that allows children "to pick it up, plug it into a computer and start creating with it immediately", said the BBC.
It will be able to connect with Arduino, Galileo, Kano and Raspberry Pi computer boards.
The aim is to support "hands-on learning experience to help children grasp the new Computing curriculum in ways that other software and traditional classroom learning couldn't", said the BBC.
The companies involved in the design manufacture and distribution include: ARM, Barclays, Freescale, Microsoft, Nordic Semiconductor, Samsung, Cisco, Code Club, Institution of Engineering and Technology, Open University, Python Software Foundation and element14 will design and manufacture the Micro Bit products.
This is not the first schools-computer launch by the BBC, back in the 1980s the BBC Micro was put into many schools, and along with the Acorn Computer, was influential in kick-starting the UK's microelectronics industry.