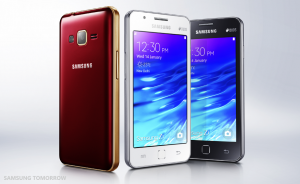 The significance of the Z1 smartphone, which goes on sale in India this week, is that it is not running the Android OS.
Mobile World Congress: Your Electronics Weekly guide »
Samsung grew to be the world's biggest selling smartphone manufacturer in 2014 by championing Google's Android OS. As such it was a defiant challenger to the early dominance of Apple in the smartphone market.
The Z1 will go on sale in India this week for INR 5,700 (£61), but don't be fooled by the modest price tag this could be a significant smartphone launch for Samsung.
Although it is extremely unlikely we will see Samsung drop its adoption of Android for Tizen in higher end smartphones any time soon, the release of the Z1 displays a strong statement of intent from the company.
The hardware giant wants to become self-reliant in the software sector, and so reduce its dependence on Google.
Tizen is a Linux-based operating system. It builds on Samsung's Linux Platform (SLP) and was initially known as LiMo after the company's long time collaboration with Carsten Haitzler and the Enlightenment Foundation Libraries (EFL) project.
Renamed Tizen in late 2011, the OS made its first major outing in Samsung's second iteration of the Gear smartwatch in April 2014, ousting the use of Android's rival Wear operating system.
On June 2nd 2014 Samsung announced its first Tizen powered smartphone, the Z, a high-end device slated for a third quarter release in Russia. This planned release did not materialise, and the path was set for the introduction of the Z1 with its more modest specification in India this week.
Unlike its plans for the Z, Samsung have made a U-turn in design for the Z1, opting for far more modest internal hardware.
Powered by a 1.2GHz dual-core processor, 768Mbyte RAM and 4Gbyte internal memory, which is expandable up to 64Gbyte with a microSD card, the device can hardly be called high-end when compared to the likes of Samsung's flagship Galaxy S5 and Note 4 smartphones.
The handset sports a 4-inch WVGA PLS screen, a departure from Samsung's renowned Super AMOLED displays seen on the higher-end android variants, and a 3.1Mpixel rear mounted camera.
The device also features dual SIM support and is equipped with a 1500mAh battery providing, a claimed, seven hours of non-stop video and eight hours of talk time.
Despite less than inspiring hardware specifications, Samsung is confident that the lighter Tizen operating system will be able to offer both fast and smooth performance in a simple package.
They have gone to great measures to offer a wealth of safety and security features to the Indian market, with the addition of built-in Antivirus protection and a neat feature which enables users to activate an SOS alert with four presses of the power button, sending a help message and the device's location data to the phone's primary contacts.
Samsung's 'ultra' power saving feature has made its way across from the Galaxy Note 4. This allows for shutdown of all but the essential features of the phone to ensure you can remain connected, albeit in a featureless, monochrome environment.
According to Hyun Chil Hong, president and CEO, Samsung Electronics, the Z1 has been customised "to meet the entertainment-focused needs of local Indian consumers."
India is one of the newest and most interesting smartphone markets for suppliers. "Many consumers use their device as their screen of choice for content including videos, television programmes and video games, as well as a range of apps," said Chil Hong.
There are no immediate plans from Samsung to release the Z1 outside of India.