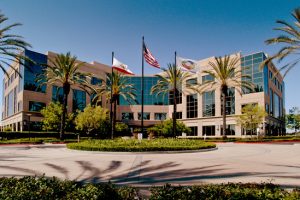 Microsemi is reported to be up for grabs with Skyworks the front-runner.
After Skyworks approached Microsemi, Microsemi a
Pointed the Bank of Montrealto,see if there are any other interested parties, say the reports.
Microsemi shares have whipped up 20% on the news and it's market cap is now over $5 billion.
Skyworks' market cap is over $14 billion.
Buying Microsemi would allow Skyworks to diversify out of the mobile phone market into defence and security which is 25% of Microsemi's business, and into industrial markets which represent 21% of Microsemi's business.
The defence and aerospace segment of Microsemi's business is high margin and contracts tend to be multi-year
Last year Microsemi and Skyworks vied to buy PMC-Sierra with Microsemi eventually winning the struggle with a $2.5 million bid.
Microsemi has a pretty acquisitive recent history, buying Actel, Vitesse and Centellax among others.