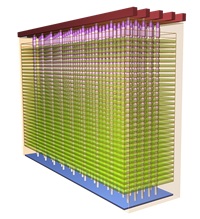 The shortage is expected to increase NAND prices in Q1 and continue throughout 2017.
Samsung Electronics remained the leading NAND flash vendor with a 37.1% market in Q4, followed by Toshiba with a 18.3% share and Western Digital (formerly SanDisk) with a 17.7% share, according to DRAMeXchange.
Samsung's NAND revenues rose 19.5% in Q4 to $4.47 billion, its flash bit shipments increased 11-15% sequentially in Q4, and its ASP rose over 5%.
Samsung is unlikely to expand significantly its 3D NAND flash output until after Q2, DRAMeXchange said. The firm will see its NAND flash bit shipments fall 4-9% sequentially in the first quarter.
While currently relatively small, Toshiba intends to have 3D NAND accounting for half its NAND output by the end of the year.