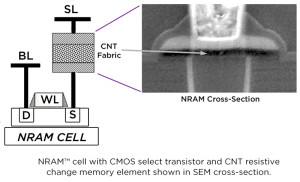 The licensing agreement between Fujitsu and Nantero covers joint development and licensing of ultra-fast, ultra-high-density NRAM, non-volatile RAM using carbon nanotubes
Fujitsu's initial product will be a 55nm embedded memory based on planar NRAM scheduled to enter the market in 2018.
The three companies are aiming to develop a product using NRAM non-volatile RAM that achieves several 1000 times faster rewrites and many thousands of times more rewrite cycles than embedded flash memory, making it potentially capable of replacing DRAM with non-volatile memory.
Fujitsu Semiconductor plans to develop a NRAM-embedded custom LSI product by the end of 2018, with the goal of expanding the product line-up into stand-alone NRAM product after that. Mie Fujitsu Semiconductor, which is a pure-play foundry, plans to offer NRAM-based technology to its foundry customers.
"Non-volatile memory using Nantero's carbon-nanotube technology is a marked advance beyond conventional technology," says Fujitsu Semiconductor vp Masato Matsumiya, "Fujitsu Semiconductor has been designing and producing FRAM, a type of non-volatile RAM, since the late 90s, and is one of the few companies to have integrated FRAM design and production capabilities. We will be able to build on our experience and skill in this field to develop and produce NRAM as well. The combination of Nantero's technology with our design and production capabilities promises to meet the longstanding needs of our customers for non-volatile memory that is higher density, faster, more energy efficiency, and with a higher rewrite cycle."
"Nantero's NRAM technology is based on carbon nanotubes and allows for non-volatile memory with high density and random access, promising to expand Mie Fujitsu Semiconductor's line of embedded non-volatile memory products, which are a major focus of our business," says Fujitsu Mie vp Masahiro, Chijiiwa In working with Nantero to develop their technology into products and license that technology, together with Fujitsu Semiconductor, I am certain we will be able to offer our customers new kinds of non-volatile random-access memory solutions.
Greg Schmergel, co-founder and CEO,of Nantero says "Fujitsu Semiconductor and Mie Fujitsu Semiconductor are ideal commercialization partners for Nantero as their experience with FRAM makes them among the world's most successful companies in mass production of new memory devices. Nantero is honored to be working with them on breakthrough memory products."
"Through over a decade of intensive R&D, Nantero has been able to bring CNT-based memory technology to a state of maturity and manufacturing readiness where Fujitsu Semiconductor and Mie Fujitsu Semiconductor are working with us on productisation for multiple markets," adds Schmergel, "NRAM technology, with its combination of nonvolatility, high speed and high density, is uniquely positioned to allow for the continued evolution of memory beyond the projected limits and capabilities of classical technologies."