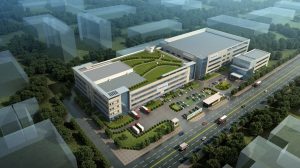 This will enable the factory in Guangdong to produce 90 billion parts annually, representing an increase of around 50% depending on product mix, and supporting Nexperia's ambitious business growth plans for the coming years. Overall, this results in an increase of the company's total capacity to over 100 billion parts annually.
Operating 24 hours a day, 7 days a week and 365 days a year and employing 4000 people, the the site produced more than 62 billion small signal transistors and diodes in 2017; in 2018 the projected throughput rate will be over 2000 pieces per second.
Packaging options include SOT23, SOD323 & 523, SOT223, SOT143, MCD, Ucsp, Flip Chip, etc., and some of the most recent package developments delivered by ATGD include the large 8x8mm LFPAK, smallest DFN (GX4 for logic, DFN0606-4), and – specific to ATGD – fc-QFN (SOT1232) and 0402 6-sided protected Wafer Level Chip Scale packages.
The plant has advanced production modules for its leadless packages and over 100 high-tech assembly flow lines are equipped with more than 1,500 advanced semiconductor manufacturing stations such as Die Saw, Die Bonding, Wire Bonding, Molding, Plating, Trim & Form, Testing, Marking and Taping.
"Our facility in Guangdong has been successful by staying focused on results, targeting efficiencies in cost, quality and delivery, and by continuous improvement of our customer service," says Frans Scheper, Nexperia's CEO.