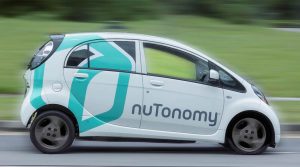 Four year-old nuTonomy was founded by MIT and McKinsey people. Last year it trialled driverless taxi services in Singapore.
nuTonomy raised a $3.6 million seed round in January 2016. Ford chairman Bill Ford's Fontinalis Partners fund participated in the round.
In May 2016, nuTonomy raised $16 million from Highland Capital Partners, the Singapore Economic Development Board, Fontinalis, Samsung Ventures, and Signal Ventures among others.
nuTonomy's platforms for the Dingapore test will be installed in Peugeot 3008 cars.
Car companies teaming up with tech companies on driverless cars has become a feature of the driverless thrust – Mercedes teamed with Bosch and BMW teamed with Intel and Mobileye (being bought by Intel).
Meanwhile, over in Seoul, Samsung has got permission to test a driverless Hyundai car using Samsung tech. Samsung is trying to obtain the AI smarts for driverless cars but says it hasn't got any intentions of making one.