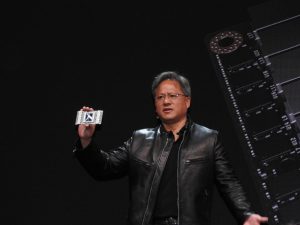 Called the Volta, the chip measures 815 sq mm and contains 21 billion transistors. It was made on TSMC's 12nm process.
Nvidia CEO Jen-Hsun Huang (pictured) called Volta a 'masterpiece'.
"To make one chip work per 12-inch wafer, I would characterise it as unlikely," said Huang, " so the fact that this is manufacturable is an incredible feat."
The Volta can handle 120 Tensor Teraflops for deep learning. It can transfer data at 300 Gb/s.
Nvidia says that, this year, it will train 100,000 developers to use deep learning.
Microsoft is putting together 64 Voltas for an image recognition Deep Residual Network application.