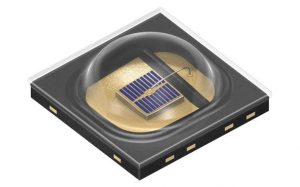 The 850 nm versions are intended for exterior applications, enhancing advanced driver assistance systems such as night vision, pedestrian protection and lane detection technologies.
The 940 nm versions are better suited for interior applications like driver monitoring, interior cabin monitoring and gesture recognition. Thanks to a dynamic range of wavelengths and lenses, these products cover a wide array of customer requirements and can be operated at up to 5 A in pulsed mode.
The IREDs are intense, with an optical output of up to 2.0 W in continuous operation, and deliver various wavelengths and beam angles. SFH 4715AS A01, SFH 4716AS A01 and SFH 4717AS A01 all have a wavelength of 850 nm and beam angles of ±45°, ±75° and ±25°. SFH 4725AS A01, SFH 4726 A01 and SFH 4727AS A01 all have a wavelength of 940 nm and beam angles of ±45°, ±75° and ±25°.
A high refractive index silicone is used for each lens, giving the IREDs a particularly low profile so that only very little light is lost from the sides. The maximum operating temperature of the IREDs is 125°C.
The high optical pulse outputs and wide range of integrated lens options allow system designers to select the right IRED for virtually any application without installing secondary optics.
Infrared light sources in a wavelength range < 900 nm are perceived by the human eye as a red glow. This red glow is largely suppressed at 940 nm.
Like the rest of the Oslon Black family, the new IREDs offer outstanding performance, long lifetime and excellent thermal properties.