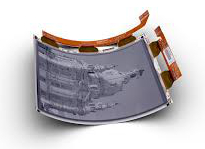 Plastic Logic says it has made a  155% improvement in the display density of its plastic EPDs and has produced a sample display with a pixel density of 500ppi.
EThis has been achieved  through advances in Plastic Logic's transistor matrix backplane, with the new displays using the same Eink overlay as the company's previous displays.
Further image improvements can be expected when using the latest e-paper technology.
Prior to this technology breakthrough Plastic Logic's most advanced commercially available display was 196ppi in a 4.7" form factor.
"New generations of e-readers, luggage tags and signage can all really benefit from this improved display density along with a whole raft of new use cases that haven't been imagined yet," says CEO Tim Burne
Another use case benefiting from the improved display density would be applications where accurate lines/measurements are critical, such as ePaper rulers, portable mapping or CAD drawings.