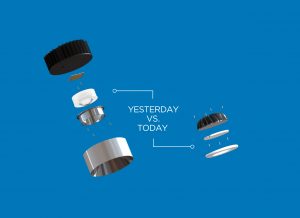 The Orion module uses Plessey's Stellar beam forming technology to achieve a powerful and highly directional beam from such a slim module. Key features include improved light uniformity and thermal performance.
"The  Orion module, was named a top-ten product at LuxLive," says Mouser's Kristin Schuetter, "and since then it has also won the prestigious Sapphire Award for 'Modular LED Light Engine' in association with LEDs Magazine, held at the Strategies in Light and The LED Show 2017 at the City National Grove of Anaheim, California. The Sapphire Awards focus on the LED based solid-state lighting (SSL) market from an enabling-technology and elegance-of-design perspective to recognise true technology stars."
Plessey provides components and solutions across the whole of the lighting value chain. According to the company, lighting system designers and specifiers can access its design, build and supply chain expertise from blue die through packaged LEDs and modules to complete luminaires and fixtures.
See also: Making monolithic 12V multi-junction LED
See also: LuxLive: Wider and narrower Orion beams