Prices of graphics DRAM products rose 15% Q1. Prices of other DRAM types rose 3-6%
Samsung's Q1 DRAM revenue was up 2.9% to $10.6 billion for a 44.9% market share and an operating margin of 69%.
Hynix Q1 DRAM revenues grew 2.2% to $6.43 billion for 27.9% share and an operating margin of 61%.
Micron, which has been hiking prices by around 10%, had Q1 DRAM revenue of $5.21 billion for a market share of 22.6% and an operating magin of 58%.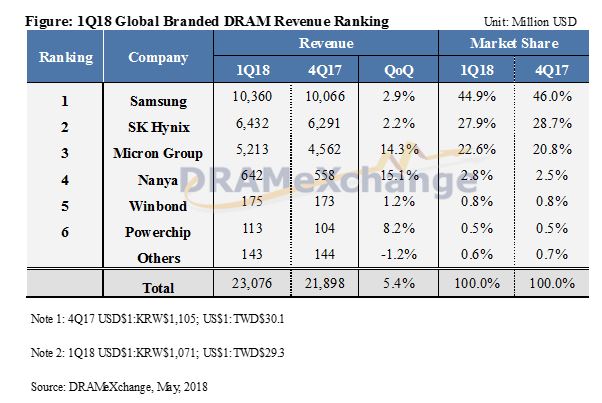 Samsung is maintaining its 18nm output share at 50-60%. 16nm production on the second floor of Samsung's Pyeongtaek fab is being prepared.
Hynix is said to be concentrating on improving 18nm yield and finding the transition to finer geometries more difficult than expected. Its new fab at Wuxi will not come on-stream until H1 2019 at the earliest.
Micron is transitioning to 17nm at its Taiwan fabs – formerly Rexchip and Inotera.
Taiwanese DRAM makers Nanya, Powerchip and Winbond remain in the game.