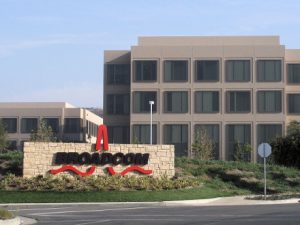 "Qualcomm is delaying the business of its 2018 Annual Meeting of Stockholders pursuant to an Interim Order received on March 4, 2018 from the Committee on Foreign Investment in the United States (CFIUS)," says Qualcomm, "to implement this change, the 2018 Annual Meeting of Stockholders will be opened on March 6, 2018 at 8:00 a.m. Pacific Time and immediately adjourned to April 5, 2018. There will be no voting or other matters conducted at the meeting."
CFIUS  has recently been lobbied by US politicians to look at the deal. A letter to Qualcomm from the Us Treasury, which oversees CFIUS, states that Broadcom's "statements indicate that it is looking to take a 'private equity'-style direction if it acquired Qualcomm which means reducing long-term investment, such as R&D, and focusing on short term profitability."
That would imperil the US' technical position in 5G.
Broadcom is in the process of  re-domiciling itself from Singapore to Los Angeles – a move which was announced in the White House with President Trump in attendance – and which, says Broadcom, will make the CFIUS investigation irrelevant. The re-domiciling process is due to be completed in early May.
However the extra 30 days granted to Qualcomm for holding the vote will give Qualcomm valuable time to lobby shareholders to get a positive result.
According to Bloomberg, with half the votes cast, all six Broadcom nominees will be elected.
This is Qualcomm's statement justifying the move:
"Broadcom Limited's response to the order from the Committee on Foreign Investment in the U.S. (CFIUS) is a continuation of its now familiar pattern of deliberately seeking to mislead shareholders and the general public by using rhetoric rather than substance to trivialize and ignore serious regulatory and national security issues. CFIUS is an independent, multi-agency U.S. governmental body charged with protecting U.S. national security. CFIUS has determined that there are national security risks to the United States as a result of and in connection with the transaction proposed by Broadcom.
"Broadcom's dismissive rhetoric notwithstanding, this is a very serious matter for both Qualcomm and Broadcom. Broadcom's claims that the CFIUS inquiry was a surprise to them has no basis in fact. Broadcom has been interacting with CFIUS for weeks and made two written submissions to CFIUS."
"In compliance with the CFIUS order, Qualcomm will delay its Annual Meeting of Stockholders and election of directors for at least 30 days so that CFIUS can fully investigate Broadcom Limited's proposal to acquire Qualcomm."