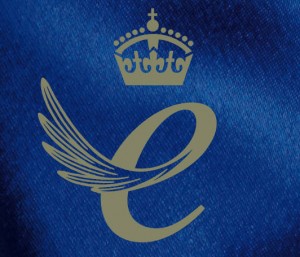 One such is Cambridge IC, maker of rotary and linear position sensing chips, which was awarded a 'Queen's Awards for Enterprise – International Trade'.
"Our international trade has increased 5x over the last four years," founder David Ely told Electronics Weekly. "Almost all of our trade is overseas: Germany is a big one for us, and the USA and Europe in general."
The Far East is another region Cambridge IC ships to, but at the moment through design-ins won in Europe and the US.  Ely's next sales target is Chinese design engineers, he said.
Why do companies specify Cambridge IC parts?
Because they offer position and rotational precision, without requiring support from precision mechanical parts, according to Ely: "There is much less need for special mechanical tolerance, we can operate with a big gap."
The firm's ICs work with special PCB patterns and are typically used to sense rotation up to 360° and linear position from 50 to 500mm, although can operate with as little as 5mm of travel, and have been used with 2m of travel.
At the long-travel end, a typical application is surgical robots, and industrial valves at the short end, said Ely.
Electronics Weekly's list of electronics-related companies that have received Queen's Awards for Enterprise this year.
Queen's Awards for Enterprise – Innovation
BJSS Leeds Delivery approach enabling organisations to reduce costs and eradicate failures in complex software projects
Edina UK Stockport Design, manufacture, installation, operation and amp; maintenance of high performance and cost-leading, high efficiency renewable energy systems
Electronic Temperature Instruments Worthing Continuous innovation of digital thermometers, saving energy, waste and food poisoning
Endomagnetics (trading as Endomag) Cambridge A minimally-invasive surgical guidance system to provide a better standard of cancer care
Focusrite Audio Engineering High Wycombe USB2 audio interface to allow musicians to easily record and playback music using a computer
Ikawa London Digital micro coffee roasters
Kelvatek Lisburn Smart fuse device, data analytics and new fault management business model for electricity distribution
KP Technology Wick Design and manufacture of ambient pressure photoemission spectroscopy systems for materials and nanotechnology engineering
Lumishore Swansea Through-hull interchangeable underwater LED lighting system for leisure marine
Metrasens Malvern Ferromagnetic detection systems for MRI safety and security applications
Midstream Lighting London High-output LED projector for illumination of aircraft stands in mission-critical application
Quicklink Video Distribution Services Swansea Hardware which creates and manages multiple HD quality broadcasts from consumer Skype calls
Radio Design Shipley Auto by-pass cCombiners automatically route power and digital control signals in mobile infrastructure cell sites
Rentokil Initial Crawley Rodent activated, detection and riddance – the world's smartest mouse trap
Resilience Communications Torpoint Device that allows any radio to be interoperable with any other
Solentim Wimborne High-resolution imaging system to enable single cell identification in new drug development research
SPTS Technologies Newport Physical vapour deposition system enabling advanced semiconductor device packaging
Ultrahaptics Bristol Using ultrasound to project virtual controls, shapes and textures onto the users hands
Watson-Marlow Falmouth Chemical metering pump for use in water and wastewater treatment, mineral processing and industrial applications
Williams Advanced Engineering Grove Battery that powers the cars in Formula E electric racing series
Queen's Awards for Enterprise – International Trade
Activinsights Kimbolton Wrist-worn raw data accelerometer for research, life-style analysis wearable
Astro Lighting Holdings Harlow Design, engineer and manufacture lighting for domestic and hospitality markets
Bamboo Distribution Waltham Abbey Telecoms recycling, fulfilment and distribution services – phones and tablets
Brandon Medical Company Morley Operating theatre lights, theatre control, operating tables and medical audio-visual
Cambridge Integrated Circuits Cambridge Development and sale of integrated circuits for the contactless measurement of position inside machines
EnSilica Wokingham Designs, develops and supplies complete chips and systems
Fortress Interlocks Wolverhampton Design and manufacture of industrial safety interlocks to protect people and equipment
Global Inkjet Systems Cambridge Software, electronics, software drivers and ink system components for industrial ink jet print heads
Hanningfield Process Systems Rochford Design, manufacture and installation of pharmaceutical powder machinery
Hydro Group Aberdeen Sub-sea cables, connectors and cable systems for electrical and fibre optic systems
Image Processing Techniques (trading as Omnitek) Basingstoke Provider of video and image processing IP, design services and test and measurement equipment
Lew Techniques Taunton Manufacture and sub-contracting assembly of bespoke sub-mounts, circuits and other miniature packaging components for microelectronics
Lumishore Swansea Design, development and manufacture of underwater LED lighting for leisure marine and super-yachts
Laser Wire Solutions Pontypridd Off-the-shelf and bespoke laser wire stripping equipment and wire stripping contract services
Microlise Nottingham Design and manufacture of hardware and software for commercial vehicle operators
MIRA Technology Park Nuneaton Location for international automotive companies to establish a UK technical presence
Ossila Sheffield Components, equipment and materials for organic electronics and materials discovery
Photocentric Peterborough Manufacturer of 3D printers, manufacturer of photopolymer packs for making stamps
Proinso UK Slough Distribution and integration business with a primary focus on solar energy
R&M Electrical Southampton Supply of marine, industrial and hazardous area electrical equipment.
Resilience Communications Torpoint Design and manufacture of audio ancillaries for communications systems
Rinicom Lancaster Designer and manufacturer of wireless telecommunications radios and civil infrastructure protection
Telensa Cambridge Wireless streetlight management and smart city sensor network
Tellurium Q Langport High-end audio cables
Testhouse Docklands Functional and performance testing, test automation, consulting services
Zettlex (UK) Cambridge Design and manufacture of sensors for position and speed measurement in extreme environments
Queen's Awards for Enterprise – Promoting Opportunity (Through Social Mobility)
None
Queen's Awards for Enterprise – Sustainable Development
Brother UK Audenshaw Printers and scanners – continuously improving every aspect of business
If you have been missed off, we are most sorry – please email editorial@electronicsweekly.com