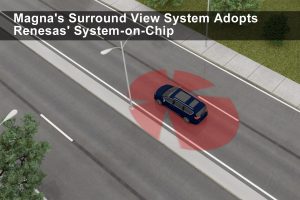 The system uses a Renesas SoC  abd Magna's surround view vehicle camera system that provides a 360-degree panoramic view to assist drivers when parking or performing low speed operations.
Drivers can adjust the view of their surroundings, while object detection alerts drivers about obstacles in their path.
The system provides drivers a realistic 360-degree view of their environment, a significant upgrade to the bird's-eye view offered by other parking assist systems.
The innovative, ready-to-use system minimizes integration time and development costs, making the system an easy, cost-efficient option for automakers.
Several automakers have already expressed strong interest in the technology, including a European automaker, which will be the first to integrate the 3D surround view system into a future vehicle.