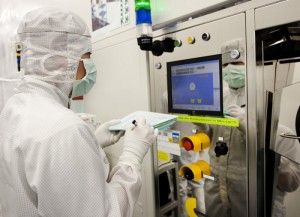 Samsung, which is said to be lagging behind TSMC at the 7nm node, is looking at placing large orders on ASML for EUV machines to stymie purchases by TSMC and Intel, reports Digitimes.
TSMC is intending to use EUV for the first time at its 7nm+ node starting 'early' next year. If Samsung really is lagging TSMC on 7nm – some say by up to a year – then this tactic could delay TSMC extending its lead next year when it starts to insert EUV into the production line.
For non-EUV – immersion – 7nm lithography, TSMC is said to be starting volume production for Apple, Xilinx, Qualcomm and others sometime during the current quarter.
Intel is not starting its 10nm ramp until H218 but, in terms of transistor density and performance, fin size and metal pitch Intel's 10nm may match Samsung's and TSMC's 7nm.
Meanwhile the capex race is hotting up – reported to be: $40 billion at Samsung; $14 billion at Intel and $10-11 billion at TSMC.