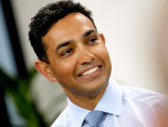 Caulfield joined GF in 2014 after 17 years at IBM where he built and ramped the company's new 14nm production facility in upstate New York.
In 2015, GloFo  acquired IBM's microelectronics business, bringing a team of more than 1,000 technologists and a portfolio of 16,000 patents.
GF  leveraged these capabilities to build the New York facility and to accelerate development of 7nm.
The company has also brought up FD-SOI and, in 2017 started to build an FD-SOI fab in Chengdu China.
"It has been an incredible four years," said Jha. "We have transformed GF into a trusted, reliable foundry for our global customer base. The acquisition of IBM's microelectronics business has allowed us to independently develop leading-edge technology including 7nm, as well as expand our leadership positions in differentiated businesses such as RF, ASICS and the FDX platform. Tom Caulfield is the right person to build on this record of success and strengthen GF's position as a leading foundry partner to the semiconductor industry."
"I am honored to be given this chance to lead GF at such an exciting time at the company and in our industry," says  Caulfield, "with exciting new customers coming into the market, we have the unique technology portfolio and executional track record to reset the competitive playing field in the rapidly-growing foundry segment. And we will continue to change the industry that is changing the world."
Jha intends to work closely with the company's shareholder, Mubadala Investment Company, to explore the development and build out of potential future systems businesses.