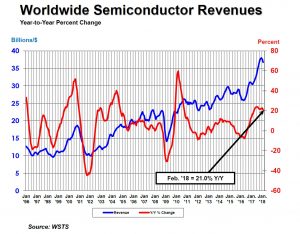 The Americas saw 37.7% growth, followed by Europe (21.7%), China (16.4%), Asia Pacific (16.2%) and Japan (15.5%) February 2017 to February 2018.
Worldwide semiconductor sales increased from $30.4bn in February 2017 to $36.8bn for the month of February 2018, an increase of 21.0%. Global sales in February were 2.2% down on January 2018's sales total of $37.6bn, reflecting typical seasonal market trends reports.
All monthly sales numbers are compiled by the World Semiconductor Trade Statistics (WSTS), which compiled the figures.
"The global semiconductor market continued to demonstrate substantial and consistent growth in February, notching its 19th consecutive month of year-to-year sales increases and growing by double-digit percentages across all major regional markets," said John Neuffer, president and CEO, Semiconductor Industry Association.
"The Americas stood out once again, with sales increasing nearly 40 percent compared to last year, and sales were up year-to-year across all major semiconductor product categories."