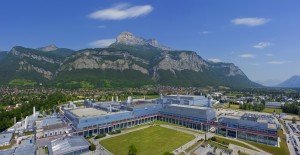 The CGT has proposed strike action for two hours for the following days:
Thursday for day employees, shift team 1 and 2 employees from 11h45 to 13h45
Thursday for shift team 3 employees from 20h to 21h30
Sunday for shift 4 and 5 employees from 16h to 18h
For the first time of his history, the ST employees' union, CAD-ST, has also called for a strike but only in Crolles.
The CAD-ST plan is to propose that employees  stop work for the same periods as the CGT proposal and /or the end of the last working day of the week, that is to say:
roughly Thursday 5th from 11h45 to 12h45 for shift team 2 employees (same as CGT)
roughly Friday 6th from 15h30 to 17h for day employees
roughly Friday 6th from 20h30 to 20h30 for shift team 1 employees
roughly Saturday 7th from 4h to 5h for shift team 3 employees
roughly Sunday 8th from 16h to 17h for shift team 4 employees (same as CGT)
and roughly Tuesday 10th from 4h to 5h for shift team 5 employees
For CAD-ST, the action  is just an "appetizer" to show that employees are not happy, mainly because of the inferior remuneration at Crolles which they say is worse than at other ST sites in France. 
"Les ingénieurs et cadres de Crolles quasiment les plus mal payés de tout STMicroelectronics en France. Les techniciens de Crolles les plus mal payés de tout ST-France," says CAD-ST.
Pay at ST's Rousset site is 10% higher than at Crolles, says the union.
As well as the pay issue, ST employees are complaining about the way women are treated, the rights of disabled people, the way management emphasises financial results to the detriment of a sustainable future for the company, oppressive management procedures in disputes and a failure to give pay rises.
"Although strikes are not in our DNA," says CAD-ST, "we believe that the Directorate of Crolles has for too long exceeded the limits of the unacceptable.'