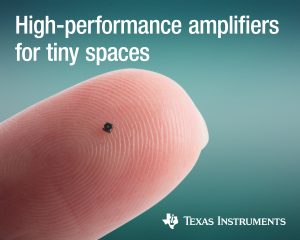 As the first amplifiers in the  X2SON package, the TLV9061 op amp and TLV7011 family of comparators enable engineers to reduce their system size and cost, while maintaining performance.
With a high gain bandwidth (GBW) of 10 MHz, fast slew rate at 6.5 V/µs and low-noise spectral density of 10 nV/√Hz, the TLV9061 op amp is designed for use in wide-bandwidth, high-performance systems.
The TLV7011 family of nanopower comparators delivers a faster response time with propagation delays down to 260 ns.
Both devices support rail-to-rail inputs with low-voltage operation down to 1.8 V, enabling ease-of-use in battery-powered applications.