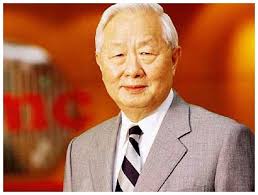 In pre-2000 days, when the semiconductor industry typically grew 15-16% annually, TSMC would usually grow 30-40% a year, said Chang.
Nowadays, when the industry grows at 4-5% a year, TSMC grows 5-10% a year, said Chang.
TSMC's revenue grew 10.6% last year in a market which grew 1.5%. This year the market is expected to grow considerably more – 5 to 7%
Chang said TSMC is 'observing' the Toshiba sale and, with $20 billion cash, TSMC could afford the $13 billion price tag for the whole company.
TSMC's revenues were just under $30 billion last year. Capex was $10.2 billion and gross  margin topped 50%.