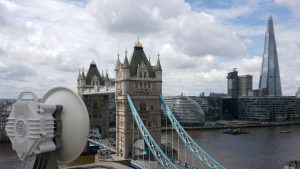 Intended for 4G and LTE telecoms back-haul, the link can also bridge fibre-optic cables across rivers and sensitive areas like historic town centres, RF Com MD Ian Cains told Electronics Weekly. Corporate campus networks, IPTV, wireless ISP backbone and last-mile links are other potential applications.
Called PPC-10G, the system is thought to be the first commercially available 10Gbit/s point-to-point millimetre wave link available.
The end terminals work in E-Band at either 71-76GHz or 81-86GHz, or in Q-Band at 40.5-43.5GHz – according to RF Com, Ofcom only requires a low-cost 'light' license to operate at the E-Band frequencies.
Interface to the terminals is Ethernet at both ends, with the wireless link acting as a transparent Ethernet carrier.
Communication is full-duplex, with QAM 254 modulation putting 10Gbit/s though 2GHz bandwidth. Antennas are 300 or 600mm dishes, and predicted range is 4.4km over almost all of the UK for 99.99% availability with the larger antenna – dropping slightly in rainy areas of Northern Ireland and western Scotland.
Adaptive code and modulation allows the link to adjust to maximum available data rate in poor weather without losing the connection. "This gives a reliable link even in heavy rain fall or sand storms," said RF Com.
Up to four PPC-10G parallel links can be installed in the same location to provide a 40Gbit/s channel with no mutual interference.
With development and production in St Petersburg, management in Sweden and marketing from Estonia, Elva-1 is known for providing microwave components to research establishments around the world – including to the Joint European Torus (JET) and the Rutherford Appleton Laboratory, both in Oxfordshire.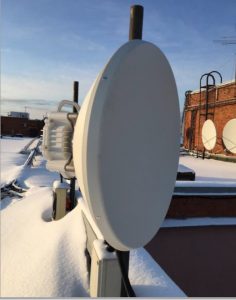 Elva-1 has previously sold 100Mbit/s and 1Gbit/s wireless Ethernet links, and has been running 10Gbit/s links for several months including in environmental trails in Siberia, said Cains.
Edinburgh-based RF Com represents Elva-1 in the UK.
"We are incredibly excited about working with Elva-1 on embedding this technology into the UK market, we've already had a huge amount of interest from mobile operators, wireless internet providers and fibre optic providers," said Cains.
The London demonstrations are on 03 August at the Tower Hotel, with a link to The Shard.
PPC-10G links are available through RF Com for for purchase, for monthly rental, or for trials lasting up to three months.