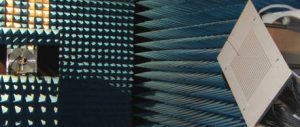 5G beam-emitting transmitter array antenna at Leti
Running from 20 to 22 February, the 5GChampion consortium has arranged for games visitors to experience the network while riding a special bus between event venues.

"Wearing virtual-reality glasses, they can 'visit' almost instantaneously and in 3D a site in Oulu, Finland, via a 5G intercontinental connection developed by the project teams. The data-transfer speed on this proposed 5G mobile network is 2.5Gbit/s," said consortium member Leti, the French semiconductor research lab.
5G back-haul high-speed point-to-point link station by Nokia and the University of Oulu's CWC laboratory
"This proof-of-concept is the first time that state-of-the-art terrestrial wireless communication, including enablers such as mmWave access, will be seamlessly combined with satellite communication," said Leti scientific director Emilio Calvanese. "This technology will form a 5G network with multi-radio-access technologies ['multi-RAT'] that is optimised to serve user equipment in various applications."
The partners are sponsoring a symposium: 'From 5G Challenge to 5GChampion trials at the IoT Street near the Winter Olympic venue' in Seoul on 23 February. Corporations including Nokia, Orange Japan, Thales Alenia Space, KT, SKT and Samsung, will join international institutes, such as ETRI and Leti, for presentations. Support comes from the Korean Institute of ICT Promotion and the Ministry of Science and ICT, as well as the French and Finnish embassies in Korea.
Venue: Conference hall, Content Korea Lab (CKL), K'OCCA 16th Floor, 40 Cheonggyecheon-ro, Jung-gu, Seoul. 9am to 6pm.
European partners:
CEA Leti
NOKIA
Intel Deutschland
Thales
HHI Fraunhofer
University of Oulu
Tlepespazio
iMinds
And in South Korea:
Electronics and Telecommunications Research Institute (ETRI)
SKT
KT
SMRT
Eluon
Clever Logic
Insoft
Mobigen
HFR
Gwangju Institute of Science and Technology
Seoul National University
Dankook University
Hanyang University