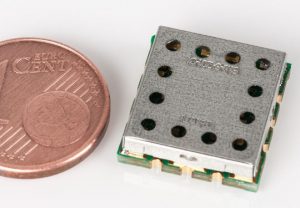 In a congested spectrum "devices that send and receive data must function reliably", said the organisation.
"But with coexistence and interference issues on the rise, we can expect significant constraints and problems when it comes to transferring data. Fraunhofer IIS has developed digitally tunable radio frequency bandpass filters that make it possible to reliably select the required frequency spectrum while simultaneously rejecting out-of-band signals."
At 14x15mm, the solderable filters are claimed to be smaller than an equivalent multi-filter bank., and are proposed as a way to make country and application-specific adjustments.
Inside is a lumped-element tunable pre-selection bandpass that consists of three coupled resonators. The bandpass employs a digitally tunable capacitor and allows for tuning the centre frequency with a resolution of 5 bits – at least in the case of the tBPF-220-425, whose centre frequency covers 220MHz to
425 MHz, including the DVB-T frequency band, a fractional 1dB bandwidth of 8.4-14%, an insertion loss of 6.7dB ±1.3dB within the tuning range, and a stop-band attenuation of 60dB.
THere are two other standard devices, covering 430-890MHz and 630MHz-1.4GHz. Custome devices are available.
The bandpass filters will be on the Fraunhofer IIS booth at embedded world (4-460 Hall 4) in Nuremberg from February 27 to March 1.
See also: Embedded World 2017: Get the full Electronics Weekly Guide