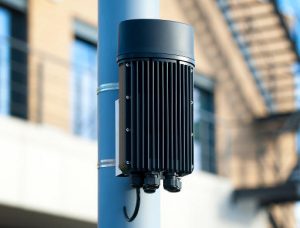 The multi-point system is the first element in a software-defined mesh network architecture, with multiple Metnet 60GHz nodes operating as a centrally managed SDN-capable networking switch.
Operating in the unlicensed 57-71GHz band, it has automated interference avoidance and low latency, using distributed control of time, frequency, and space switching to manage co-ordination and co-existence with other unlicensed 60GHz systems.
Implemented with phased array beam steered transceivers, the nodes provide 300° field of view connecting autonomously to form MPtMP self-organising, self-healing networks meshes that dynamically reconfigure to optimise performance and spectral efficiency as environment or traffic levels change, said the firm.
Potential applications include small cell back-haul, FWA, enterprise networks, WiFi back-haul, fibre or G-Fast extension, and CCTV back-haul.
"This is the first product release within our software-defined network architecture, and part of our evolutionary roadmap towards 5G radio. With this product, we're leveraging the low cost base of commercial, off-the-shelf component technology and combining it with our unique self-organising mesh architecture," said CCS CEO Steve Greaves. "For existing mobile operators, it provides a platform for network densification via small cells as well as back-haul and access applications."
Metnet 12Gbit/s 60GHz will be on-show at Mobile World Congress in Barcelona (26 Feb – 1 Mar).