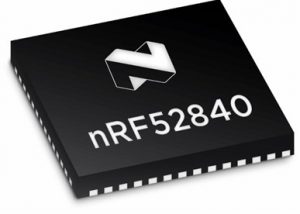 With support for the longer range and throughput improvements of the latest Bluetooth, the chip is especially suited, says the company, for smart home and advanced wearables applications, as well as industrial sensor and IoT devices.
Compliance with the specification, coupled with increased maximum output power, enables the nRF52840 SoC to deliver Bluetooth low energy wireless connectivity with up to 4x the range or 2x the raw data bandwidth (2Mbps) compared with the Bluetooth low energy implementation of Bluetooth 4.2, says Nordic.
As well as the Bluetooth 5 support, the nRF52840 SoC supports IEEE 802.15.4, the wireless basis of ZigBee and Threadand which can also be employed as a Network Adaptation Layer with 6LoWPAN and standard Internet Protocols.
According to the company, the chip's support for 802.15.4 "significantly extends the product's capability as an interoperable foundation technology for IoT, smart home, or industrial sensor wireless networks".
The SoC will be accompanied by the release of the S140 SoftDevice, a Nordic addition to its family of RF protocol software 'stacks'. The S140 SoftDevice is a Bluetooth 5 compliant software stack with support for the long range and high data throughput features of Bluetooth 5.
"The nRF52840 SoC builds on the success of the nRF52 Series but will enable wireless product developers to embark on even more ambitious single-chip smart home, wearables, and IoT applications," says Thomas Bonnerud, Director, Product Management at Nordic Semiconductor.

"The scope of these application areas is developing quickly; wearables are moving towards payment and identification devices. The new Bluetooth 5 long range feature makes Bluetooth a genuine contender for smart home device communication and the nRF52840 is designed to meet and exceed developer expectations. Security cannot be an afterthought in today's connected products, the consequences can prove disastrous."

"With ARM CryptoCell hardware on-chip we are equipping developers with the very best-in-class hardware and software security options to build secure products. The nRF52840 SoC with its hardware enhancements, Bluetooth 5 range and bandwidth improvements, and 802.15.4 support, is the latest embodiment of that intention."
Nordic will release its S140 SoftDevice and associated nRF5 SDK with support for Bluetooth 5 upon ratification of the Bluetooth 5 standard, due to officially take place tomorrow.
Engineering samples and development kits will be available to order from 6 December. Production variants of the nRF52840 will be available Q4 2017, the company says.