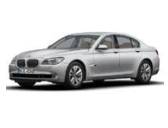 The supplier is bidding to establish BroadR-Reach as an open, de facto standard for in-vehicle Ethernet.
Broadcom, NXP, Freescale and Harman have formed an OPEN Alliance Special Interest Group (SIG) to drive the wide adoption of Ethernet in the automotive industry.
"Licensing BroadR-Reach to other semiconductor suppliers will encourage wide-scale adoption of 100Mbit/s Ethernet connectivity as the standard in automotive networking applications," said Dr. Ali Abaye, senior director of PHY product marketing at Broadcom.
Major car manufacturers are designing with Ethernet for high-bandwidth in-car networks, alongside CAN, LIN, LVDS and FlexRay. BMW cars supporting Ethernet are already on the market since 2008.
Ethernet can offer cost advantages over other high-bandwidth automotive networking technologies such as LVDS, based on its ability to operate over single unshielded twisted pair (UTP) cabling. Not only is single UTP less expensive and lower in weight than shielded cabling, the technology is already in use by CAN- and LIN-based control systems, enabling BroadR-Reach to run over existing in-vehicle networks.
"We see Ethernet as the best choice for high-bandwidth in-vehicle networks and believe that BroadR-Reach is the superior technology in this field," said Rob Hoeben, director of marketing and business development for Ethernet at NXP Semiconductors.
NXP plans to create an automotive-grade product portfolio for the Ethernet physical layer based upon BroadR-Reach.
www.nxp.com