GB Patent Number: GB539765
Granted to: Nettoken Limited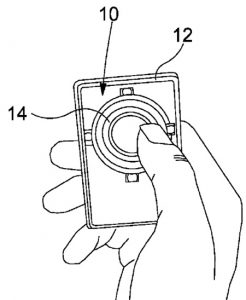 Near-field communication (NFC) technology was developed over 30 years ago but has only recently been commercially deployed. It is widely used in contactless smart cards, such as bank and travel cards, as well as in mobile phones and smart watches.
As for me, one of the best things about my smart watch is being able to pay for my morning coffee on a cold and frosty morning without taking my gloves off.
Contactless payments
In the UK, contactless payments have been slow to take off. This is due to the fact that bank cards with contactless functionality have been incrementally rolled out, as some card issuers have been tardy in adopting the technology, and those who did only issued contactless versions of their cards when older cards expired.
In addition, it has taken some time for retailers to update their card readers with the most up-to-date models, while certain high street chains are still behind in doing so. Nevertheless, it is fair to say that the UK is light years ahead of some other countries, for example the US where even chip-and-pin terminals are relatively new.
Card clash
Whenever a new consumer technology is introduced there is a need to educate the masses about their benefits and pitfalls, and contactless payment cards have been no different. One issue which frequently cropped up was 'card clash', whereby users were warned not to inadvertently present two contactless cards, such as a travel card and a bank card, to a card reader, to prevent both cards, or the wrong card, from being read.
This can defeat the purpose of these cards, since the need to remove the card from a wallet or purse to prevent card clash somewhat erodes their convenient nature.
Correctly reading a card is critical to the smooth operation of these systems and those of you who have used public transport systems where this technology is deployed, such as Transport for London's Oyster card, will be all too familiar with the problems caused by a failed card reading, which can lead to queues of frustrated passengers.
Passive NFC
To improve the smooth operation of contactless payments, Nettoken Limited has developed a neat, contactless payment device, which avoids the problem of card clash. The device, which makes use of passive NFC technology, is described in patent GB2539765, granted on 20 September 2017.
Passive NFC uses magnetic induction, activated when the card is placed close to a card reader, which is constantly emitting a magnetic field. When the NFC card is close enough to the reader, a coil within it converts the detected magnetic field into an electrical signal, which is then used to power an electronic circuit. That circuit then transmits a signal back to the card reader, helping to determine the identity of the card and authenticate the transaction.
In order to avoid card clash Nettoken's invention is designed as a credit card-sized smart card, which can be used as multiple contactless cards, replacing the multitude of cards held in a user's wallet. Nettoken's device comprises a housing within which is mounted a rotatable dial. The device is designed so that the dial can be easily rotated with the thumb to one of four positions.
It also includes wiring running to the dial from four NFC circuits within the housing. With a corresponding contact at its edge, as the dial is rotated to each position, one of the NFC circuits connects to the dial and the other three are electrically isolated. Each NFC circuit has a unique ID number, which can be associated with a bank, travel or other card.
In this manner the dial is used to enable just one NFC circuit at a time, which means that although the device can function as four contactless cards, only one is enabled for use.
Convenience
To make the device as convenient as possible, surface markings are incorporated to clearly indicate which 'card' is enabled and indentations around the dial ensure it 'clicks' into place smoothly. The dial may also have a thumb indent to assist rotation of the dial. The patent also foresees that rather than having a rotatable dial, a slider could be used, allowing even more NFC circuits to be embedded in the card.
Nettoken's patented device can help to avoid card clash and minimise wallet clutter and is likely to increase take up of contactless payment cards. Unfortunately, however I suspect it won't do anything to curb my credit card spending.
Michael Jaeger is a partner and patent attorney at Withers & Rogers LLP, a leading firm of patent and trade mark attorneys.