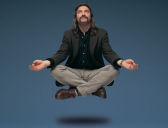 Both DAC and its European cousin, DATE, have suffered this decade from declining attendance and importance as the meeting place for technologists, customers, and companies to co-mingle and network.
The massive downturn in the semiconductor market in the post-dot-com era resulted in slashed travel budgets and prevented the ordinary engineer from attending these events. Exhibitors have similarly pulled back with smaller booths and modest after-show parties. Some of the big guys, (i.e. Cadence) don't even bother to come anymore.
So what's going on? Semiconductors and EDA continue to grow modestly and the IP business continues to grow faster than anything. Apparently our customers don't want to talk to us? Or, maybe something else is going on.
Let's first look at how these conferences appear to a customer:
PowerPoint slide show that never ends
Demo on a workstation showing some kind of program running (better, faster than the competition of course)
Drawing for a Wii (or other expensive toy du jour)
Scanning your badge so you can be spammed for the next 100 years
Explaining the $10 hamburger in your expense report to your boss
Catching up with all your work after you return
Now let's look at them from the exhibitor point of view:
Sign up 12 months in advance to get that "sweet" location for your booth
Tie up the marketing team for a month before to create all the PowerPoint presentations especially for the event, appropriately vetted with corporate marketing to make sure all the stories are in alignment
Take some of your best application engineers out of the field to run demos on the floor
Push the field sales team to invite customers to the show
Establish means to steer those customers to your exhibit (jugglers, magicians, USB drives, golf clubs, booth babes, etc)
Process the leads after the show, getting them into your corporate database, connecting them to the appropriate sales team for follow-up
Catching up with all your work after you return
While that may seem to be a pessimistic view, many veterans will recognize more than a germ truth in all of this.
It's not surprising that the attendance and the importance of these events are going down – it's simply not a very efficient way of communicating to customers in the increasingly efficient world we live in. 20th century methods don't do well in our 21st century reality. It's the classic "Who Moved My Cheese" story of reacting to unexpected change.
In fact, large companies today are making a move to talk more directly to their customers through private conferences where a deeper connection to the customer is possible. Cadence for example opted out of DAC and DATE this year entirely, instead focusing their energy on CDNLive! ARM has long had its own Developers Conference, and last week Freescale held its annual Freescale Technology Forum for its customers and ecosystem partners.
However, even the private shows suffer from the same issues as the big industry shows. While they move us a step closer to something that works in our 21st century work environment they are perhaps still one step away from where our customers want us to go – information without the inconvenience.
We look no further than our teenage children for a hint into what our business future looks like: cellular email, text messaging, Google, YouTube, Facebook, Second Life. This is a major part of young people's socialization structure today. They have rapidly adopted the very technology that we have developed to change the rules of work. As they graduate from university, they bring this structure with them to the work place and we (not they) must adapt.
Such adaptation is already taking place. Phone conferences are now augmented by video conferencing. Cisco is even using holographic technology for its meetings with its Indian team in Bangalore. We are beginning to use LinkedIn as a professional social networking vehicle to stay in touch with customers and old colleagues as they move around the industry. Many companies are encouraging the use of instant messaging as a way to increase communication while keeping down the amount of email.
Where does this lead to? Well if Coca Cola can take out ads in Second Life, it can't be that long until we get to virtual trade shows, a hot area in the venture capital community today.
Except for the DAC party, all the communication benefits of a conventional trade show can be had at a virtual trade show. Here's how it works:
Companies pay to be part of the trade show and are assigned a booth location on a map of the virtual show floor
Talks and papers are scheduled throughout the show and customers can signup to attend them (and put on your Outlook calendar)
Presentations are given by the companies and customers can attend via web conferencing technology
Customers and Companies can engage in live, or on-line chats with the speakers
Private on-line meetings can be scheduled for those "let's take that offline" questions
This all happens from the convenience of everyone's desktop and is availabl e to big companies and small, and all customers, whether they are in Silicon Valley, Bangalore, or Shanghai. Technology is an amazing equalizer.
The print media has fully embraced the new electronic publishing aspects of communication because they realised they were in the information business, not the printing business. Customers were telling them that they wanted their information in a variety of formats delivered to them where and when they wanted it. It's a good thing. It might not be long before the big trades shows move into the 21st century and make those huge conference halls we used to go to become a quaint reminder of a different age.
Warren Savage, President and CEO of IPextreme, is a well-known and published authority in the field of semiconductor intellectual property.
He has a long history of pushing the envelope of design methodology from his work in fault tolerant computing at Tandem Computers in the 1980's and driving reliable design methodologies into commercial practice at Synopsys for its DesignWare IP product in the 1990s. Much of his thinking became embodied in the seminal book on IP reuse, the Reuse Methodology Manual.