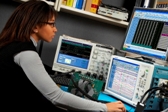 "The 130nm SiGe BiCMOS technology offers x2 performance over the previous generation and targets delivery of oscilloscopes with real-time bandwidth beyond 30GHz," said Tektronix. 
Tektronix' first scopes to use IBM's flagship SiGe 5HP technology was the TDS7000 series launched in 2000.
It is now incorporating the fourth-generation SiGe 8HP process technology.
Agilent Technologies has switched to non-silicon based InP process technology for the high speed input ICs in its 32GHz real-time oscilloscopes launched last April.
Agilent said the indium phosphide semiconductor technology has a 200GHz transition frequency.
"SiGe's performance and the reliability and stability of IBM's SiGe manufacturing capability will enable our next generation oscilloscope to achieve greater than 30GHz acquisition capability for growing customer needs in the computing/communications industries," said Brian Reich, general manager, performance oscilloscopes, Tektronix.
An advantage of the SiGe BiCMOS process technology over alternative gallium arsenide (GaAs) devices is that it has the potential to provide high-speed bipolar transistors on the same die as standard CMOS, enabling a semiconductor devices that combine high speed performance with large-scale integration for data processing. 
Tektronix already uses SiGe in its 70000 series scopes with a 20GHz real-time bandwidth.