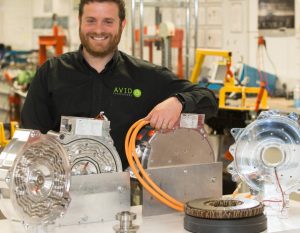 "Since the start of the year, Avid has experienced a sharp increase in demand for the Evo, securing over £50m in new business for the motors alone, with exports to Germany, Poland, Spain, USA and Asia already in the pipeline for 2018," said the firm. "The motors have one of the highest power and torque densities of any electric vehicle drive motor available on the market, which makes them suitable for a range of high-performance drive-train applications." – there is demand for robotics and aerospace, for example.
Under the agreement with GKN, Avid is also developing existing Evo technology to create new variants of the motor for a alternative applications.
After getting the licence from GKN, Avid invested >£4m in production and test facilities last year.
Also last year, the company was selected for a £20m government-funded clean-tech project aimed at increasing the number of hybrid vans and lorries on UK roads in order to improve air quality.
Avid won the inaugural 'Scale Up Business of the Year' and 'Trade and Investment' awards from the North East Automotive Alliance (NEAA), which were presented this month.
Photo: Ryan Maughan, AVID Technology MD with an EVO Motor.