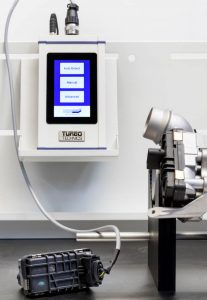 ATP-100 is a turbocharger actuator tester designed for use by service personnel in turbocharger repairs.
It is operated via a 5in colour capacitive touch screen interface.
"With a single touch auto-detect feature, the tool allows simple connection to almost any type of turbocharger actuator," said the firm. "Also integrated in to the tool is a re-programming system for certain actuators."
Turbo Technics was founded in 1981 by Geoff Kershaw and both designs and makes its products in the UK.
It claims to be "world class in terms of expertise and experience in the area of vehicle engine turbocharging both cars and light commercial vehicles". It is also a consultant to car companies, engine designers and motor race teams.