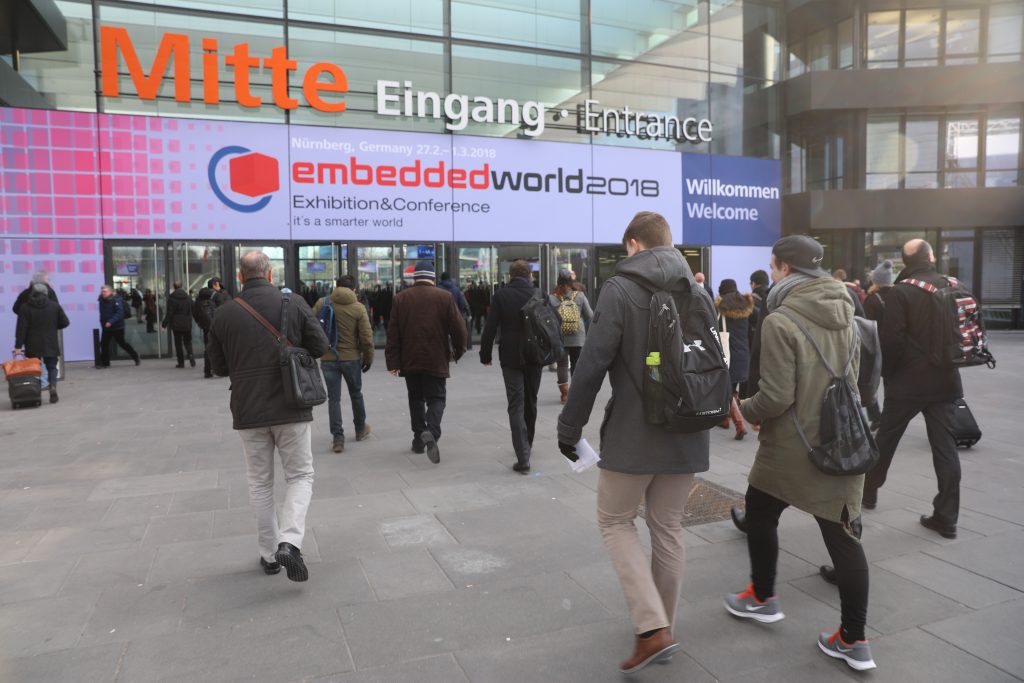 The event covers automotive, military, telecomms, industrial and consumer electronics sectors and you'll find the Electronics Weekly stand at 3A-616.
For all our show coverage, simply bookmark: www.electronicsweekly.com/tag/embedded-world/
Preview of Embedded World 2018
Post Show
Wi-Fi chip runs from a battery for months
NXP tackles edge processing with Arm-based processors
Pico's data logger software gets complete re-design
Renesas builds Ethernet controller into RJ45 socket
System-in-package-on-module eases industrial Linux computer design
Supermicro's Skylake-D, IoT edge PCs and 20 NVMe SSDs in 1U
Embedded World 2018: In picture form…
Thursday 1 March 2018
EW: FRAM for critical data logging
Cypress announces an FRAM non-volatile memory family for mission-critical data capture.
Sleep monitor fits in a ring, including 7 day battery
Spotted on the Cypress Semi stand was a prototype Oura ring sleep monitor, revealed at CES earlier in the year.
EW: Cypress adds Arm secure firmware to PSoC6
Cypress implements Arm's Platform Security Architecture Trusted Firmware-M reference example
EW: Supermicro's Skylake-D, IoT edge PCs and 20 NVMe SSDs in 1U
Supermicro was showing several new products amongst its existing range of servers and edge PCs
Embedded World 2018: In picture form…
Embedded World 2018 is over now, but check out these images captured from the show floor in Nuremberg.
EW: Video Interview – Broadcom's optical sensing for measurement and gestures
At Embedded World 2018, we caught up with Sebastian Bauer of Broadcom
EW: Video Interview – Harwin launches Archer Kontrol Industrial board connectors
At Embedded World 2018, we caught up with Larissa Schlafli of Harwin
EW: Video Interview – ADI building to sense, measure, power, connect and interpret
At Embedded World 2018, we caught up with Stefan Steyerl of Analog Devices
EW: Video Interview – Lattice advancing Edge Connectivity and Edge Computing
At Embedded World 2018, we caught up with Deepak Boppana of Lattice Semiconductor
Wednesday 28 February 2018
EW: IQD TCXO delivers frequency stability of of ±0.5ppm over -30 to 85 deg C
IQD's IQXT-225 series TCXO only requires an ultra-low 1.2V supply
EW: Video Interview – SensiEDGE IoT Devices, lowering development barriers
At Embedded World 2018, we caught up with Milan Yudkovich, founder of IoT specialist SensiEDGE
EW: Video Interview – Arrow Electronics on "Sensor to Sunset" IoT portfolio
At Embedded World 2018, we caught up with Amir Sherman of Arrow Electronics
EW: Video Interview – Rohde & Schwarz on new oscilloscopes series
We caught up with Bob Bluhm, vp of value instruments at Rohde & Schwarz
EW: Video Interview – Elatec on RFID, NFC, Bluetooth readers
We caught up with JT Tepley, Key Account Manager at Elatec
Tuesday 27 February 2018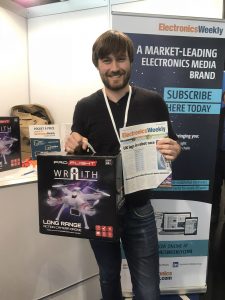 Embedded World 2018: Pocket a Prize in an Electronics Weekly competition
One to note if you are attending the show: there are two Electronics Weekly competitions sponsored at Embedded World 2018.
EW: Bridgetek launches graphic controllers for EVE
Bridgetek introduces BT815/6 series of graphic controller ICs for next-gen HMI development
Pre show
Preview of the show
Embedded World is Europe's largest showcase for embedded components and systems…
Motherboard for high end embedded PCs

Congatec introduces a Mini-ITX motherboard for the high-end of high‑throughput embedded processing
Tiny PC is for digital signage
Striking a different performance balance, Logic Supply has created a fanless PC under 40mm tall that can be DIN, VESA, or wall-mounted.
IoT adds pressure to teach machines to 'see'
Michaël Uyttersprot discusses embedded vision and what is required to bring a system to market for real-world applications
Lynx hunts down a solution for Spectre
What help is available to deal with the Meltdown and Spectre attacks, and protect systems for the future?
Lauterbach and UltraSoC back RISC-V
Lauterbach and UltraSoC have added support for the RISC-V open-source processor architecture to their joint chip development and debug environment
Digitally-tunable RF filters dodge spectrum congestion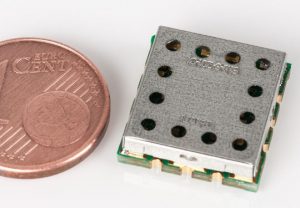 The Fraunhofer Institute for Integrated Circuits IIS develops digitally tunable and reconfigurable RF filters.
Fast SoC module is supported with build environment
Based on the Xilinx Zynq UltraScale+ MPSoC, the Mercury+XUI is Enclustra's fastest SoC module
Qseven computer-on-module is scalable
Advantech will introduce the ROM-7720, an NXP i.MX 8 QuadMax Q7 v2.1-compliant computer-on-module
—
Meet Electronics Weekly at Embedded World 2018
You are more than welcome to say hello at the Electronics Weekly stand at 3A-616.
---
Previous Embedded World 2017
Thursday 16 March 2017
EW: One-package EMI and ESD protection for USB Type C, HDMI and MIPI
Common mode EMI filters with integrated ESD protection for USB 3.1 Type C, HDMI 2.0 and MIPI M-PHY interfaces.
EW: ST offers free audio design tool for STM32 micros
A series of audio modules an be selected and connected graphically, with live-tuning on the target hardware.
EW: BeagleBone Blue is a maker robotics design kit
Built around the BeagleBone open hardware maker computer, it has a set of peripherals suited for building mobile robots.
Wednesday 15 March 2017
EW: Mouser signs Renesas for Synergy
Selling the supplier's Synergy software, development kits and microcontrollers for IoT, industrial, and RTOS-based applications.
EW: Lynx Software demonstrates secure hypervisor on ARM multicore
LynxSecure Separation Kernel hypervisor running on a multicore Cortex-A53 on the Xilinx Zynq Ultrascale+ MPSoC.
EW: Dev kits tackle IoT diversity
Development kits for IoT node designs seem to be everywhere at Embedded World 2017.
EW: Green Hills shows latest C compliers
Support for the C++11 language, updated functional safety certification and NEON autovectorisation.
EW: Video Interview – Vector Software on VectorCAST/Probe
Talking about VectorCAST/Probe and how it provides a simple way to dynamically instrument an application with blocks of code.
EW: Video Interview – Analog Devices on TSN and real-time comms
Talking about how different traffic classes can reliably and robustly share a single wire.
EW: Video Interview – Rohde & Schwarz on innovation for entry-level T&M instruments
Talking about Rohde & Schwarz introducing three new entry-level test and measurement products.
EW: Video Interview – Lattice Semiconductor on Smart Connectivity advances
Talking about the use of ECP5, CrossLink, MachXO3, iCE40 UltraPlus, HDMI ASSPs and SiBEAM Snap technology.
Tuesday 14 March 2017
EW: ADI aims to slash power consumption of IoT sensors
Designed for IoT sensor nodes, the power savings come from a "sensorstrobe" technique which allows it to remain in a low power state while data collection is taking place.
EW: Rohde & Schwarz has affordable 10-bit precision scope
The benefit of the 10-bit ADC front end is that it provides 1024 vertical positions, which allow for more precise measurements.
EW: Microchip 8bit MCUs get up to 128kbyte flash
Microchip's PIC18F 'K42' microcontrollers are available with up to 128kbyte (from 16kbyte) of flash memory in packages from 28-48 pins.
EW: IAR extends C support for ARM development
IAR Systems updates its ARM development tools to provide support for the C11 and C++14 language standards.
EW: Future brings Tianma NLT displays to Europe
This will allow Future Embedded Solutions to offer a range of displays in sizes ranging from 1-inch to 20-inch, with resolution up to Full HD.
EW: Lapis targets rapid data logging with ARM chip
The ML630Q464/466 MCUs integrate functions required for data logging such as USB, clock generation, RC oscillation type AD converter, data display, and PDF file generation on a single chip.
EW: Nordic adds Tread SDK for Bluetooth chip
nRF52840 has 256kbyte RAM and 1Mbyte flash and can run both Thread and Bluetooth low energy protocol stacks from the same chip.
EW: LDRA and Green Hills show safety-critical tools
The software tools will provide static code analysis including safety features as defined in MISRA, CERT, and CWE. There is also dynamic coverage analysis and unit/integration testing.
EW: Avnet Silica provides Transport Layer Security through UbiquiOS
Trusted Objects provides microcontroller-based authentication embedded in IoT devices, which secures the machine-to-machine interface.
Socionext uses Imagination core in latest graphics chip
The SC1810 has a quad-core processor and is capable of handling six channels of Full HD video inputs, and three channels of Full HD display outputs.
Pre show
Embedded World: Intel targets makers with Farnell tinyTILE
Farnell element14 works with Intel to create a wearable and IoT design board based on Intel's Curie module, the tinyTILE, measuring 35mm x 26mm.
EW: Imagination brings ThreadX RTOS to I6400 processor
Imagination Technologies announces expanded support of Express Logic's industrial grade ThreadX RTOS (real time operating system) for its CPUs based on the multi-threaded MIPS I-class I6400 processor core.
EW: IoT gets real, says ARM director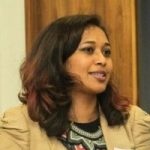 One in five companies has begun rolling out IoT services and products, and half of those surveyed say IoT will be an important part of their business strategy.
EW: Microchip adds more flash to tinyAVRs
Three new tinyAVR microcontrollers with more on-chip memory featuring Microchip's Core Independent Peripherals, which run independently of the core processor.
EW: Arduino shield gives sensor node data protection

To provide hardware with authentication and to secure small data transactions between the device and the cloud Maxim Integrated has developed an embedded security reference design.
EW: Water flow measurement kit runs for 35 years
Renesas introduces a rotational flow demonstration kit for its RL78/I1D microcontroller that is designed to detect and measure the flow of water or gas in metering applications.
EW: Weightless-P network hardware launches at Embedded World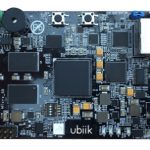 Ubiik is launching the Weightless Ignition Pack, which includes the hardware required to deploy, demonstrate, evaluate and develop Weightless-P IoT networks.