Here, in our series on the EW BrightSparks of 2018, we highlight Archie Roques, an A-Level Student at City of Norwich School.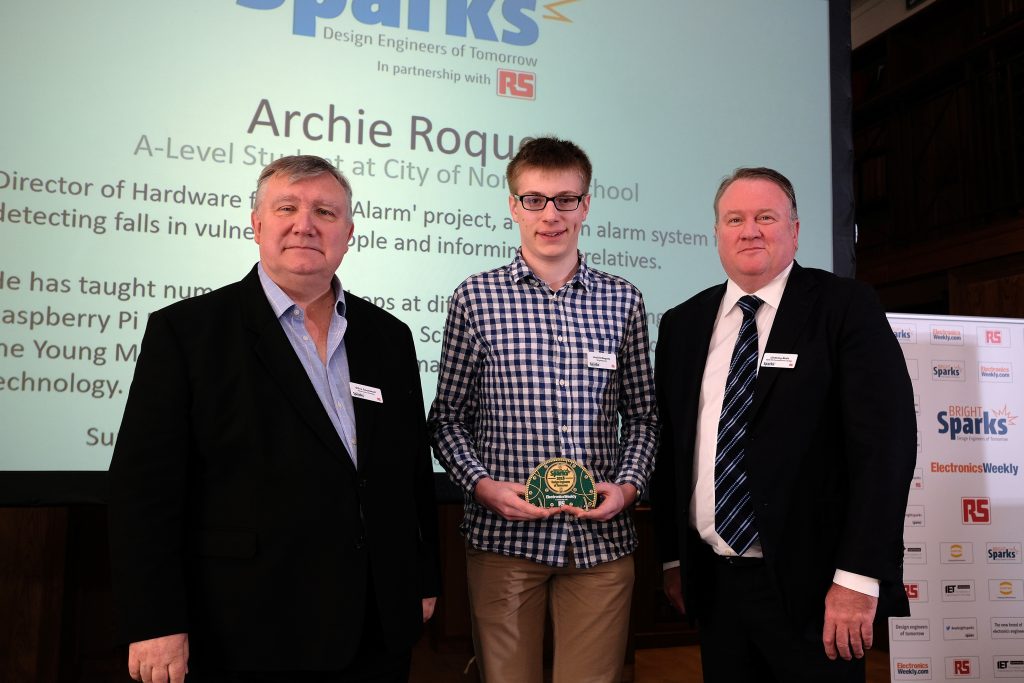 He is Director of Hardware for a 'Fall Alarm' project, a modern alarm system for detecting falls in vulnerable people and informing their relatives.
It aims to avoid the need for a costly subscription monitoring service or a telephone-based alarm system. In March of 2017 he co-founded a company to take on the development of the idea that had arisen from a hackspace conversation.
Archie also works for the maker community, including organising and running the Norwich Raspberry Jam, an outreach event with 200 attendees learning about electronics, engineering and computing.
He is a host and active participant in the Guild of Makers' #MakersHour initiative, sharing ideas with other hobbyists, and is also an active member of Norwich Hackspace, contributing to a number of group projects there.
He has taught numerous workshops on various topics at different venues including the Raspberry Pi Foundation and Norwich Science Festival.
In January 2017 he co-founded the Young Makers' Tech Club, an informal club for children aged 8-18 to learn about and play with technology and electronics. In his role as a mentor he helped young people discover how engineering can help them, encourage them into STEM careers as well as teaching them basic principles.
Through the club, he mentored a team who were finalists in the PA Consulting Raspberry Pi competition, developing a sensing hat for the blind to enable them to 'see' objects at head level.