Here, in our series on the EW BrightSparks of 2018, we highlight Daniel Toth, a student of Electronics & Electrical Engineering at the University of Edinburgh.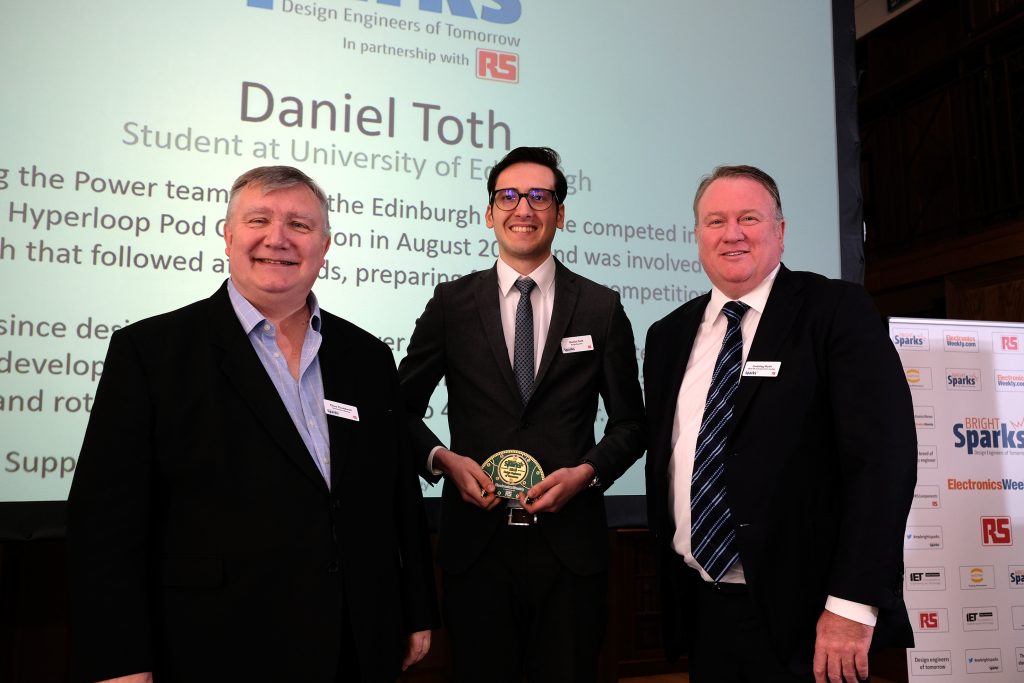 Leading the Power team, within the Edinburgh team, he competed in the SpaceX Hyperloop Pod Competition in August 2017, and was involved in the research that followed afterwards, preparing for the 2018 competition.
He writes, of the 2017 competition:
There were several challenges, and some of the biggest ones were not expected. A major challenge was that the pod had to be built in the UK, but then shipped to the USA. The shipping policies on custom-built high power lithium battery systems are strict and complicated, so a very safe and modular system had to be designed. Furthermore, the system had to work in vacuum conditions, which was one of the biggest design challenges – this was overcome through research that spanned months on choosing the right type of battery cell and accompanying electronic protection systems.

The battery power electronics system was tested and approved by SpaceX. The system consisted of 3 battery packs & 3 monitoring systems, which could output up to 10kW of combined power for the duration of the run.
The team also worked in advance of the 2018 competition.
In preparation for the 2018 competition, a much larger system has been designed, with an output power of up to 300kW and on-board battery cell balancing. After taking on the role of being the sole power electronics engineer in HYPED (University of Edinburgh Hyperloop Team) during last academic year, I designed a system that powered a large variety of electronics (Raspberry Pis, Arduinos, 20+ sensors, relay boards), as well as high-power components such as hydraulic pumps and brushless DC motors.
He has since designed a 300kW+ power system, using 864 battery cells, and helped developed a brushless DC electric motor, starting from 3D printed stators and rotors that could provide up to 400W of power, and then moving to laminated steel parts and increasing the power more than tenfold.