Here, in our series on the EW BrightSparks of 2018, we highlight Gregor Birrell, who is studying at the University of Edinburgh for a Masters degree in Electronics and Electrical Engineering.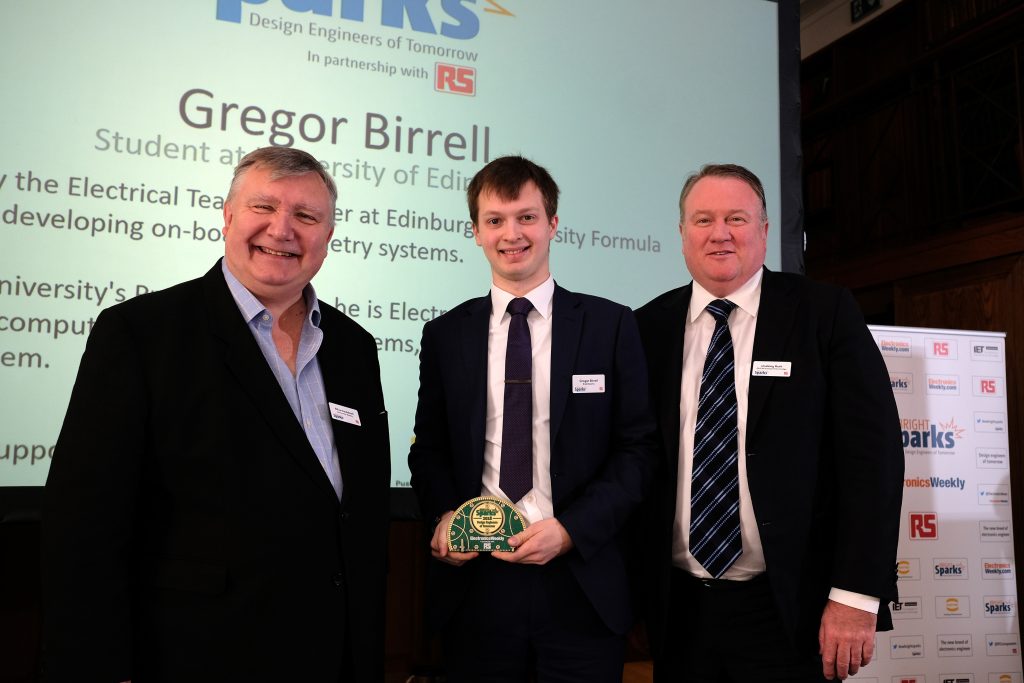 He is currently the Electrical Team Manager at Edinburgh University Formula Student.
He says university societies have helped him develop his skills applying theoretical knowledge into large practical projects, involving engine control, wireless telemetry systems, RFID technology and app development.
Specifically on Formula Student, he writes:
Formula Student is the largest engineering competition in the world where students are tasked with building their very own open-wheeled race car. Edinburgh University Formula Student was founded in 2014 as a Design only team and entered the annual UK competition at Silverstone hosted by iMechE. The following year, we built our very first car where we struggled with our lack of knowledge and funding. Throughout this year I developed the on-board telemetry systems from the engine to the dashboard. During the competition, we had many changes to complete to pass through scrutineering.

While many teams with a similar number of problems are able to learn from those mistakes and go to other competitions throughout the summer, our budget restricted us to just the UK event and so we all worked on car non-stop in the aim of making it through scrutineering. Our hard work on the car and camaraderie with other teams led us to being awarded the inaugural Spirit of Formula Student Award.
At university, other projects he has worked on include an RDID and remote door locking system and a Heads Up Display racing helmet. On Project InnSpace he is Electronic and IT Manager:
Project InnSpace was setup in 2016 to meet the ever growing needs of students at Edinburgh University's Kings Buildings campus. The InnSpace was setup by members of the Formula Student team to refurbish a disused laboratory into a makerspace run by students, for students. We obtained equipment from hand-tools to 3D printers and high performance computers allowing any student to work on any project they wish.

This year, I have taken on the role of Electronics and IT Manager where I have built the computing and networking systems, including an RFID Computer Login system for members, as well as an RFID, App, and Fingerprint Door Lock ensuring that the InnSpace is both easily accessible to members but secure to unauthorised personnel. I have also worked on personal projects in the InnSpace including a plug-in USB Password Grabber and Heads-Up Display Helmet for the Formula Student Team.
He was the recipient of the NEC Semiconductor Prize at Edinburgh University in 2015 (two prizes are awarded annually for the duration of three years to Electronics and Electrical Engineering first year students for excellence).
He worked a three-month internship at Analog Devices in 2017.