Here, in our series on the EW BrightSparks of 2018, we highlight Iestyn Llyr, a Senior Engineer at Microsemi.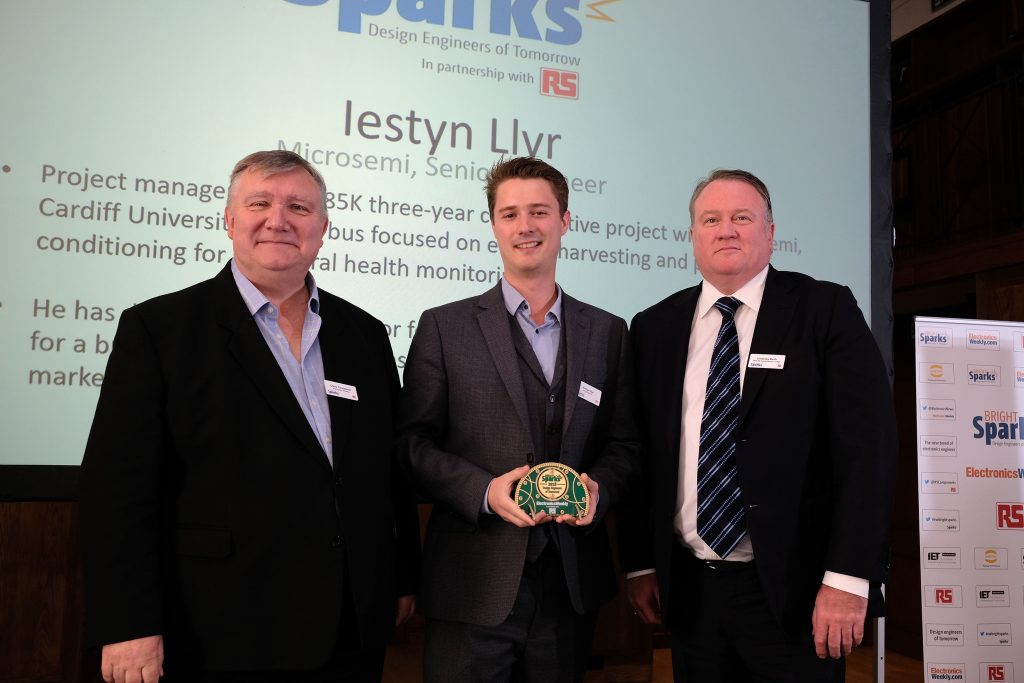 Having graduated as an engineer from Cardiff University, Iestyn started at Microsemi initially working on a project called Montagu, a £485,000 three-year collaborative project with Microsemi, Cardiff University and Airbus focused on energy harvesting and power conditioning for structural health monitoring.
By the start of the second year of the project he was asked to take the lead as the project manager, accountable for the project and reporting on the budget, deliverables and technical outcomes to Innovate UK.
His nominator, at Microsemi, writes:
There were two main challenges for Iestyn, a technical one around the efficiency of the energy conversion and project management. He designed module that could accumulate multiple sources of energy (TEG, PEG, Solar and Heat) using low loss circuitry to power an autonomous sensor. He had a technician working with him in Microsemi and to deliver on the project on time and to budget he had to influence and drive the deliverables of technical staff in other organisations that he did not have authority over. He achieved this by being confident, competent and gaining credibility within the wider team.

Iestyn demonstrates a desire and passion to understand and be involved in many aspects of the business beyond his technical remit. He has worked on other projects where he has shown a passion for the business end of things. He has designed a demonstrator for presence sensing that is now the basis for a business case for a business relationship with a major OEM in the assistive-living market, which he is leading.
Outside work, Iestyn has held an electronics class for thirty 10-year-olds and mentored several 16-year-old students for work experience.
He has also worked with the company in hosting international student visits from mainland Europe and China.
Iestyn was promoted to senior engineer within two years of joining the company and is being actively encouraged to achieve his CEng accreditation.