Here, in our series on the EW BrightSparks of 2018, we highlight Mary Bennett, a UK Electronics Skills Foundation scholar (Embecosm).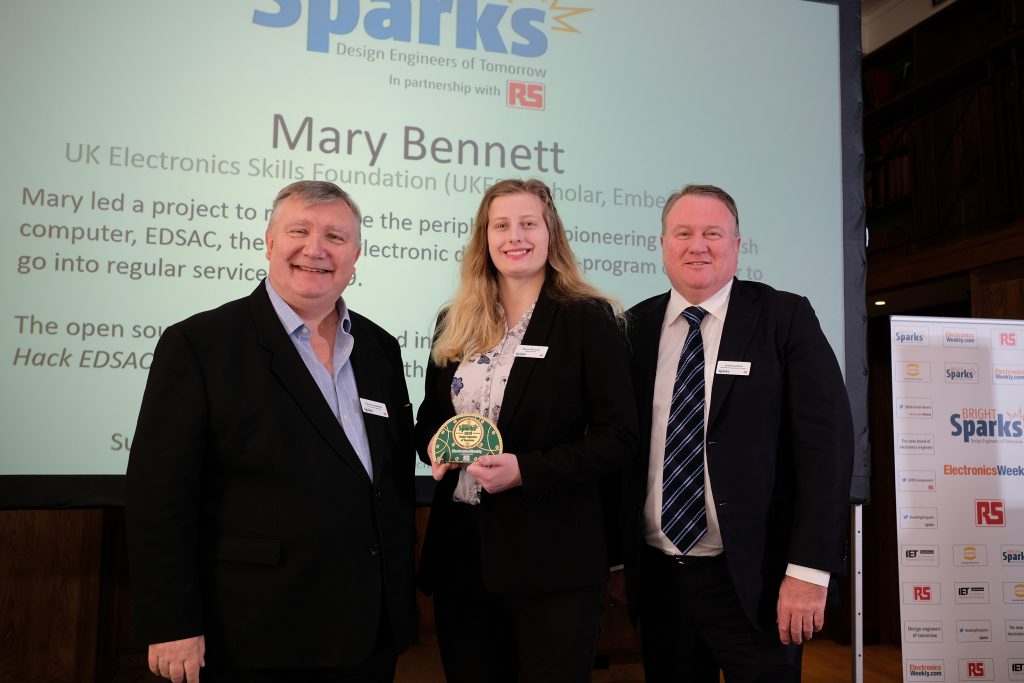 Mary led a project to re-imagine the peripherals for pioneering early British computer, EDSAC, the second electronic digital stored-program computer to go into regular service and which ran its first programs in 1949.
Key project objectives included coming up with solutions that were both cheap and easy to implement, while keeping as close to the original designs as possible.
Her nominator writes:
The original EDSAC used mercury delay line storage, which would be extremely costly and somewhat dangerous to recreate. In recognising this Mary developed an air delay line solution using readily available components such as plastic tubing and Arduino circuits for pulse generation/detection. As part of this she had to tackle numerous challenges, including minimising unwanted reflections/echo which would interfere with the operation of the storage system.

The project culminated in a two and a half day hands-on workshop entitled, Chip Hack EDSAC Challenge, where over 80 participants learned the basics of FPGA programming and went on to run a recreation of the EDSAC computer — which would have originally filled a large room — on a low cost FPGA development board.

The peripherals – which also included a tape punch and reader with 3D printed mechanical parts, and an operator front panel – were integrated with the Verilog implementation of EDSAC and made available for participants to use.
Mary presented her work at Chip Hack EDSAC Challenge, alongside professional engineers and world experts on EDSAC and computing history, in addition to leading a team providing hands-on assistance to participants learning FPGA and Verilog basics throughout the event.
She subsequently went on to present at ORConf, the annual open source digital design conference, and in February of this year gave a main track talk in a 1,000+ capacity auditorium at FOSDEM in Brussels, the world's largest open source conference, attended by some 8,000+ engineers.