Here, in our series on the EW BrightSparks of 2018, we highlight Melissa Berthelot, a PhD student at Imperial College London.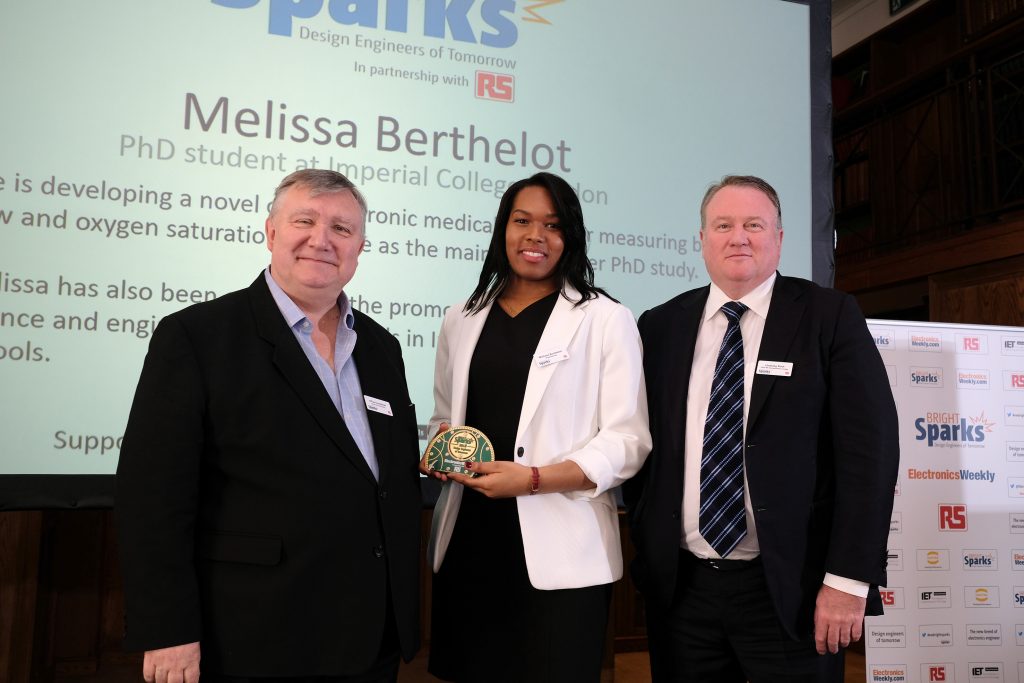 She is developing a novel optoelectronic medical device for measuring blood flow and oxygen saturation in tissue as the main focus of her PhD study.
The system is designed to monitor soft tissue flap transfer after surgery, such surgery being a common procedure for cancer removal or trauma. The miniaturised and ergonomically designed technology aims to enable early detection and intervention of tissue flap failure by providing real-time information to the surgical team.
Integrated within an IoT platform, the device is wireless and connects to a mobile application and online server for real time data visualisation and remote data access.
It is hoped that this new cutting-edge technology could transform the current post-operative care for patients after reconstructive surgeries. It overcomes the major limitations of current approaches in tissue flap monitoring. It is non-invasive, provides continuous real time assessment, and it can automatically adjusted to minimise discrepancies induced by differences in patients' phenotype.
To demonstrate the reliability of the device and the algorithm, Melissa conducted extended healthy human and animal studies which were published in peer-reviewed journal and conferences. These results were the first steps towards clinical tests. Over six months, a clinical trial took place in Charing Cross hospital to validate the device for clinical use (16/LO/1584).
Her nominator writes:
Although she is only a second year PhD student, she has already authored/co-authored more than 10 peer-reviewed publications, including journal papers and received two awards. In addition, she has conducted two animal studies and a clinical trial validating her research work. She is currently developing the next improved version of the optoelectronic device that embodies new features for additional measurements and a more generic use with enhanced ergonomics.

In addition to her PhD work, Melissa has been involved in a venture competition and her team was a finalist. Since her MSc, Melissa is passionate with neuroscience and has kept on working on brain signal analysis with the University of Kent for the development of BCI and algorithms for the distinction of brain states.

Melissa has also been engaged in the promotion of women in computer science and engineering for young girls in Imperial College London summer schools. She has also organised and participated in charity events within the Hamlyn Centre and the St Vincent de Paul Society for the benefit of homeless and sick and different associations for cancer research, disabled children and the development of schools in remote and poor areas.

In additional to her PhD research, she has been involved in many volunteering and collaborative work which are closely linked with engineering and promoting engineering. She is very passionate in bringing engineering work into daily life applications for concrete and positive impact on society. Unlike her peers, Melissa has a broader vision of practical limitations and determination to tackle challenging problems with palpable solutions.