Here, in our series on the EW BrightSparks of 2018, we highlight Nicole Weckman, a Postdoctoral Research Associate at the University of Cambridge.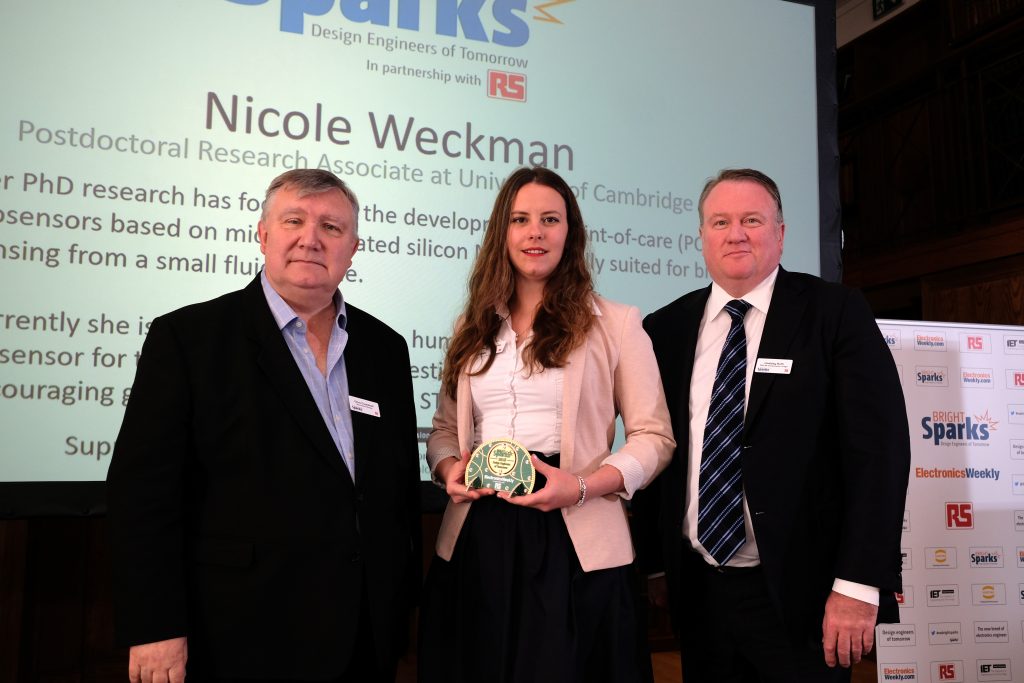 Her PhD research has focused on the development of point-of-care (POC) biosensors based on micro fabricated silicon micro-electro-mechanical systems (MEMS).
She says that MEMS are the ideal platform for POC sensing systems as they are small, low cost when mass produced, can provide real time results, and can be easily integrated with electronics to create small portable systems to analyse human fluid samples (e.g. serum, sweat, saliva).
Her MEMS designs are ideally suited for bio sensing from a small fluid sample.
She has published two journal papers and four international conference papers based on her work, with two further journal papers published on related work. A common challenge with MEMS is that they are typically highly damped when in contact with a fluid, reducing their sensitivity or even rendering them unusable. Her MEMS devices perform better in a water droplet than in air by taking advantage of the acoustic properties of the air-water interface.
She overcame another common challenge by designing a biochemical system to specifically detect one type of protein from a mixture without interference from very similar proteins.
Nicole has also taken the lead in creating opportunities for biomedical researchers of different backgrounds to discuss research ideas and share knowledge. She served on the organizing committee of the interdisciplinary conference Building Bridges in Medical Sciences  and she also initialized and organized the weekly Nanoscience Seminars for the interdisciplinary student researchers at the Nanoscience Centre with the goal of sharing knowledge, starting collaborations, and practicing research communication skills.
Currently she is developing a working, human-sized model of a Nano pore biosensor for the Cambridge Science Festival as well as the Royal Society Summer Exhibition.
Outside work, she has focused on outreach events encouraging girls to consider careers in science, technology, engineering, and math (STEM).
For example, she has taught coding at Robogals events to encourage girls to learn to code, tutored high school students from disadvantaged socio-economic backgrounds through the Let's Talk Science programme, and designed and delivered sessions for Women in STEM Access Outreach days at Trinity College and the GSA Girl Power: Women in Biotechnology and Engineering Conference.