Here, in our series on the EW BrightSparks of 2018, we highlight Oishi Deb, a Control Software Engineer at Rolls Royce.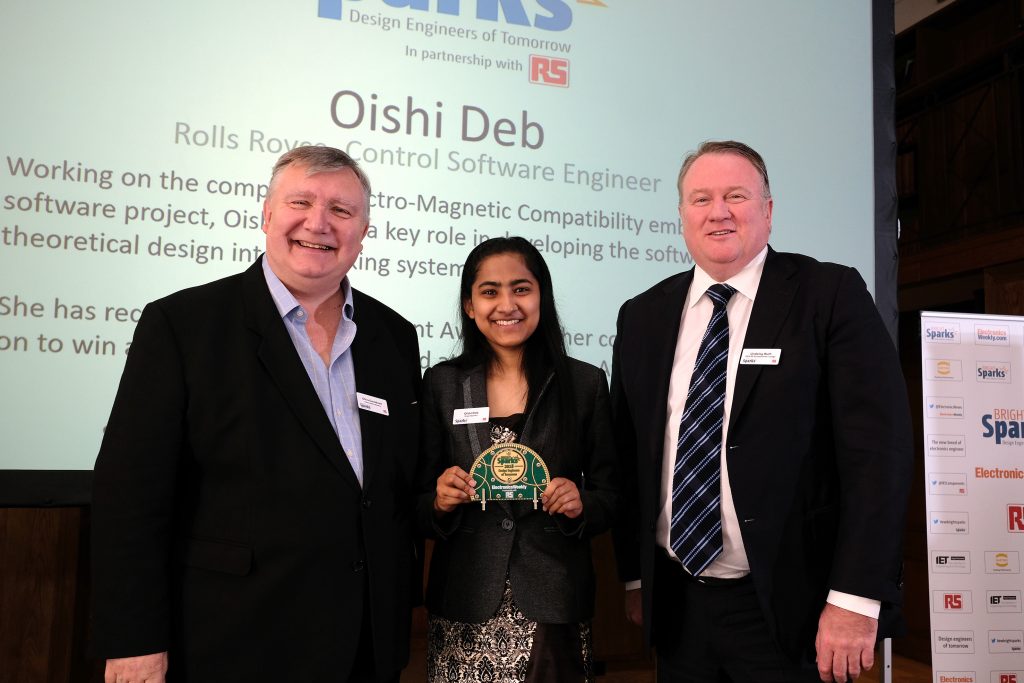 She has worked on various projects to develop safety-critical embedded software for an aircraft's engine control system.
For example, an Electro-Magnetic Compatibility (EMC) embedded software project is used to check the disturbances and data corruptions on the main engine control system when it is struck by electromagnetic waves.
Her nominator tells us that Oishi proactively identified and solved design issues when they occurred, working closely with customers to develop the EMC software.
She played a key role in developing the software, from theoretical design into a working system and helped reach the project milestones, to completion.
Another innovative idea won the runner-up place in the power systems category of Telegraph STEM Award 2017. It was to create an intelligent system of sensors using the Internet of Things, for various parts of aircraft engines, marine propellers and energy gas turbines.
Oishi graduated in 2017 with BEng Software and Electronics Engineering (SEE) with Industry degree from the University of Leicester. Oishi became the President and Vice Chancellor Student of the Year 2017 for performing at an exceptional level across a number of activities and supporting the development of her peers and colleagues. She received the BCS prize 2017 for best student graduating from the Software and Electronics Engineering course and was also the recipient of the UK Navel Engineering Science and Technology (UKNEST) 2016 scholarship award.
She participated in an International Hackathon in Spain in 2017 and won the first place in the competition for her project 'SafeHack', which is a GPS tracker emergency device. Again, Oishi took part in the Jaguar Land Rover Developer Challenge 2016 and her project won the second place, which was about capturing real-time connected car data to create a health report of a used car and also including driver's rating on the car's driving behaviour. She also presented technical posters at various conferences and was awarded the best top three poster prize at the ACM-W Inspire conference 2017.
Furthermore, she has been highly involved in promoting Engineering to the females and dedicates a lot of her personal time towards STEM-volunteering. Oishi is a member of the Rolls-Royce STEM group and has volunteered and organised several activities to promote engineering. Oishi's volunteering activities includes mentoring, judging UK Space Design regional competition, speaking at schools, volunteering at Maker's-Fair & Big-Bang fair among others (she has received STEM recognition twice from Rolls-Royce for volunteering work).
She is part of the University of Leicester Connect and she is mentoring current university students by helping them with networking, interview tips, CV and application process advice for work-experiences and internships.