Here, in our series on the EW BrightSparks of 2018, we highlight Rachel Rui Wong, a PhD student at the UCL Institute of Child Health.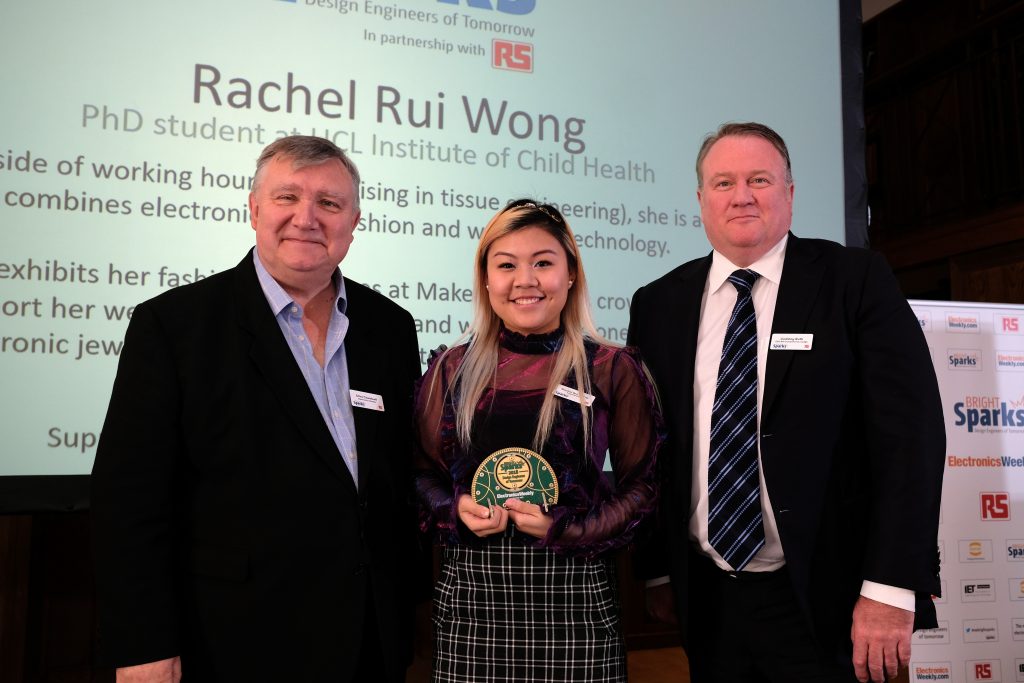 In her day job she is a specialist at tissue engineering, working on human pluripotent stem cells to grow functional human organs in the lab by innovative ways, including building a bioreactor which simulates the human growth environment.
Outside of working hours, she is a maker that combines electronics with fashion and wearable technology.
Several skills that she has taught herself, to bring electronic fashion to life, include sewing (cosplay outfits, electronic outfits), jewellery making, electronics and programming.
On top of a busy schedule in stem cell research, she is proud of being able to learn these new skills and exhibit her fashion tech pieces at Derby Mini Maker Faire and the Mozilla Festival.
She also successfully crowdfunded £300 for materials for her wearable tech workshops that encourage young girls to make, and pursue STEM.
She was also commissioned to produce an electronic jewellery piece for a fashion technology conference, TechStyle by the IET. The commission was from a speaker, Marija Butkovic founder of Kisha Umbrella and Women of Wearables.
By attending many and various Maker events and getting to know experts in the field, she has increased her exposure in this field.
This boosting of her profile has helped fund her workshops and make her the recipient of sponsored electronics from Pimoroni and microcontrollers such as the Circuit Playground from Adafruit in the US and the IchigoJam from Japan.
She was recently asked to write an article for MAKE: magazine about her Maker Gummi Bears, which is part of her electronic jewellery collection.