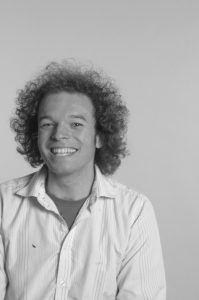 An award-winning Product Design Engineer, Jude Pullen is a multi-faceted technologist who has a passion to investigate each subject matter that crosses his path, particularly bridging seemingly disparate disciplines.
He is fascinated by fresh design challenges, be they human, mechanical or virtual.
He specialises in creating physical prototypes, and uses these models to further explore design ideas, from concepts for Dyson, a medical device for the NHS, a fire-fighting robot to a mini space-pod. Recently he has featured on BBC Two's "The Big Life Fix with Simon Reeve".
Formerly Head of Research, Development and Technology at London start-up Sugru, Jude has worked with a range of blue-chip companies, and charitable organisations, such as Children in Need. He now works as a Sr. Technology Scout & Direction Design Manager at LEGO.
"I'm excited to support EW Bright Sparks and the way it champions the best of UK talent in industries which will be instrumental in our country's economic and social standing globally."

"On a personal level, I greatly enjoy seeing the public perception of engineering evolve – to realise it can be one of the most creative, socially responsible and enriching professions of our time. In EW BrightSparks 2018, I am sure we'll be witnessing some of the extraordinary minds and hearts that will shape our future for the better."
High-profile panel
It's a high-profile BrightSparks panel full of industry expertise and knowledge.
The judges also include (alphabetically): Adam Boulton (CTO, BlackBerry Business Technology Solutions), Clive Couldwell (group editor, Electronics Weekly), Graham Curren (CEO, Sondrel), Peter Hannon (Managing Director, HARTING UK), Paul Hide (techUK's director of market engagement and membership), Isabella Mascarenhas (IET's Young Professionals Engagement Manager), Lindsley Ruth (CEO, RS Components) and Martin Woodhead, Executive Vice President, Ensigma, Imagination Technologies.
You can nominate yourself, or a colleague, to be part of the 2018 programme.