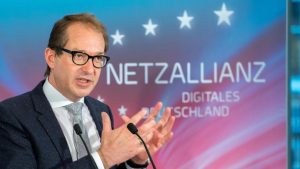 The project is called Netzallianz Digitales Deutschland and it includes Germanupy's major telecoms companies.
The network will use "the most advanced technologies, such as fibre and the future 5G mobile communications standard", says Germany's minister for transport and digital infrastructure Alexander Dobrindt.
Currently, the Ministry for Transport and Digital spends €4 billion year to bring broadband to under-served regions.
From 2018 onwards, the ministry will spend will invest a €7 billion a year, Dobrindt said.
The ministry for education is spending another €5 billion a year to improve Internet speeds for educational establishments.
More than 75 percent of all households have access to fast internet with at least 50 Mbit/s, it says.
"New applications like Virtual Reality and the networking of all things bring enormous data growth," said Dobrindt.

"In the future, we need more bandwidth, reliable real-time transmission, and intelligent networks that process data independently, prioritise it and transport it to the user as quickly as possible. To this end, we are now building next-generation broadband networks, bringing together the most advanced technologies, such as fiber and the future 5G mobile communications standard . Our common goal is to invest € 100 billion to create a nationwide gigabit network in Germany by 2025."
David Manners