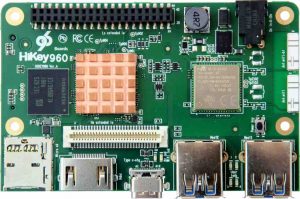 The HiKey 960 96Boards development platform from Huawei is now listed on the 96Boards website and will become available through global distribution channels.
It is expected to be of interest to mobile developers and product design for markets like digital signage, point of sale (POS) and robotics.
George Grey, Linaro CEO, writes:
"The HiKey 960 delivers on the goal of 96Boards to provide access to the latest ARM technology to the developer community, with support for the latest Huawei mobile SoC featuring high performance ARM Cortex-A73 cores coupled with the latest generation of ARM Mali GPU technology."
The new board is based around the Huawei Kirin 960 octa-core ARM big.LITTLE processor with four ARM Cortex-A73 and four Cortex-A53 cores with 3GB of LPDDR4 SDRAM memory, 32GB of UFS 2.1 flash storage, and the latest generation Mali-G71 MP8 graphics processor.
Available now through Archermind and LeMaker, the HiKey 960 96Boards development platform is on sale at US$239 and is expected to be available through local distribution in the US, EU and Japan in early May.
Other features of the board include a PCIe M.2 card interface for connecting to storage or wireless cards.
Android Open Source Project (AOSP) has been an important part of Linaro's work since its founding in 2010, and Linaro's AOSP contributions have now spanned 24 kernel versions from Linux kernel 2.6.36 in Android Honeycomb (3.0) to Linux 4.10 today.
Initial software support for the board is provided in the AOSP source tree based on the Android Common Kernel using the Linux 4.4 kernel release. Linaro and Huawei are also working on the Linux 4.9 based Android Common kernel and maintaining support for the Kirin 960 SoC in the mainline kernel.org tree, allowing for the availability of multiple Linux distributions for this board in the future.
Information about the HiKey 960 board and running Android on it will be available here: http://source.android.com/source/devices.html.
Linaro is providing instructions for developers here: http://linaro.co/hikey960-start.