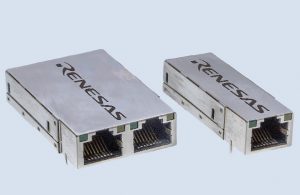 Renesas is aiming at industrial controllers by building an entire Profinet interface inside an RJ45 connector. EtherCAT and EtherNet/IP versions will follow once associated software is ready.
The hardware is accompanied by software to support the industrial Ethernet protocol stacks.
Dubbed I-RJ45, there are single and dual port versions "which simplify integration for industrial Ethernet by supporting various industrial network slave applications including sensors and transmitters, gateways, operator terminals and remote I/O", according to the firm. "The software package and sample codes provide system manufacturers with a complete set of tools and frameworks to build their application without any additional up-front costs or complexity."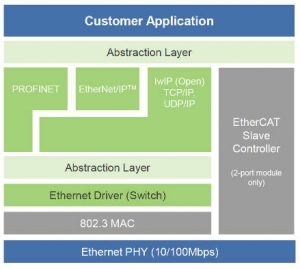 The first product includes a pre-certified class B version 2.3.4 Profinet implementation.
An SPI interface provides the physical link between the module and host processor, with an API (application programmable interface) providing the software link.
Hardware-wise, the single-port version is based on the firm's RX64M microcontroller, while the dual-port module include its R-IN32M3 industrial Ethernet communication chip.
Operation is from 3.3V over -40 to +70[deg]C. The modules are 50 x 17.5 x 12mm (single) and 50 x 35 x 12mm (dual).
The firm is to provide the source code for application examples for the in-house Synergy S7 Starter Kit, as well as the source for the PROFINET GSD files.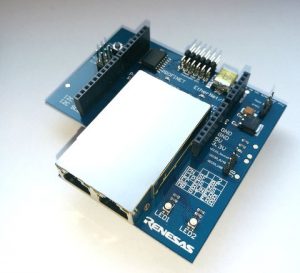 For development, there is a kit with a single or dual version of the product soldered on an adapter board that also has standard Arduino and Pmod interfaces. It also connects to Renesas MCU development boards including Synergy and RX. The kits have a quick-start guide, USB cable and a CD with software and documentation.
Samples of the I-RJ45 Ethernet modules are available now, with mass production scheduled for Q3. The kit is scheduled for April 2018.