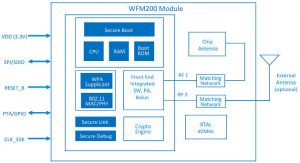 Revealed at Embedded World, the WFM200 system-in-package (SiP, 6.5 x 6.5mm LGA52) consumes 200µA (average, delivery traffic indication message (DTIM)= 3).
"We've delivered the first low-power Wi-Fi portfolio designed specifically for the IoT, enabling secure, battery-powered connected device designs that simply weren't possible until now," claimed IoT product manager Daniel Cooley.
It supports 2.4GHz 802.11 b/g/n Wi-Fi and is pre-certified to FCC, CE and IC, and in South Korea and Japan. Alongside the chip inside (WF200, available separately in 4 x 4mm QFN32), is an antenna and various discretes. An external antenna can also be added.
Security comes from secure boot within the SiP to authorise on-board firmware, and debug is also secured to block unauthorized access to debug ports. On-board hardware cryptography acceleration supports AES, PKE and TRNG.
Taking security to a further level, the bus connecting the device to a host MCU is encrypted – so requiring encryption processing in the host – which dramatically cuts the chances of a customer PCB being probed to extract secrets.
"Data transferred between host processor and WFM200 is safeguarded to protect information like SSIDs and passwords," said Si Labs. "Standard host application, network, and wireless security protocols such as TLS, SSL, WPA can be used."
Instantaneous transmit and receive consumption is 138mA and 48mA respectively, and a link budget of 115dBm is claimed.
Development tools and wireless starter kit including embedded and Linux host drivers are available.
Production is planned for Q4.