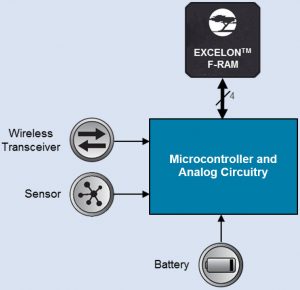 With a serial interface, the Excelon family offers high-speed data recording in harsh operating environments over wide temperature ranges.
Excelon Auto offers automotive-grade 2 to 4Mbit storage in AEC-Q100 options with ISO 26262 functional safety compliance
Excelon Ultra offers 4-8Mbit industrial-grade storage with a 108-MHz Quad Serial Peripheral Interface (SPI)
Packaging is pin-compatible with similar EEPROMs and flash.
All Cypress FRAM (ferroelectric RAM) provides 100 trillion (1014) read/write cycle endurance with 10 years of data retention at 85°C or 151 years at 65°C.
The firm argues that the fast write speed of FRAM allows data to be stored in it at all times without inconvenience to the host microcontroller, making it safe from sudden power failures.
"The ability to instantly capture the last event data in automotive data recorders is a game-changer in crash forensics, especially with the increased deployment of semi- and fully-autonomous vehicles," claimed Cypress v-p of memory Sam Geha. "Failure is not an option when dealing with data this valuable and mission-critical."
Packaging is low pin-count QFN. Operation is over 1.71V to 3.6V.
This FRAM is sampling now, with production expected in the third quarter of 2018.